MUMON
忍びの国   닌자의 나라   忍者之國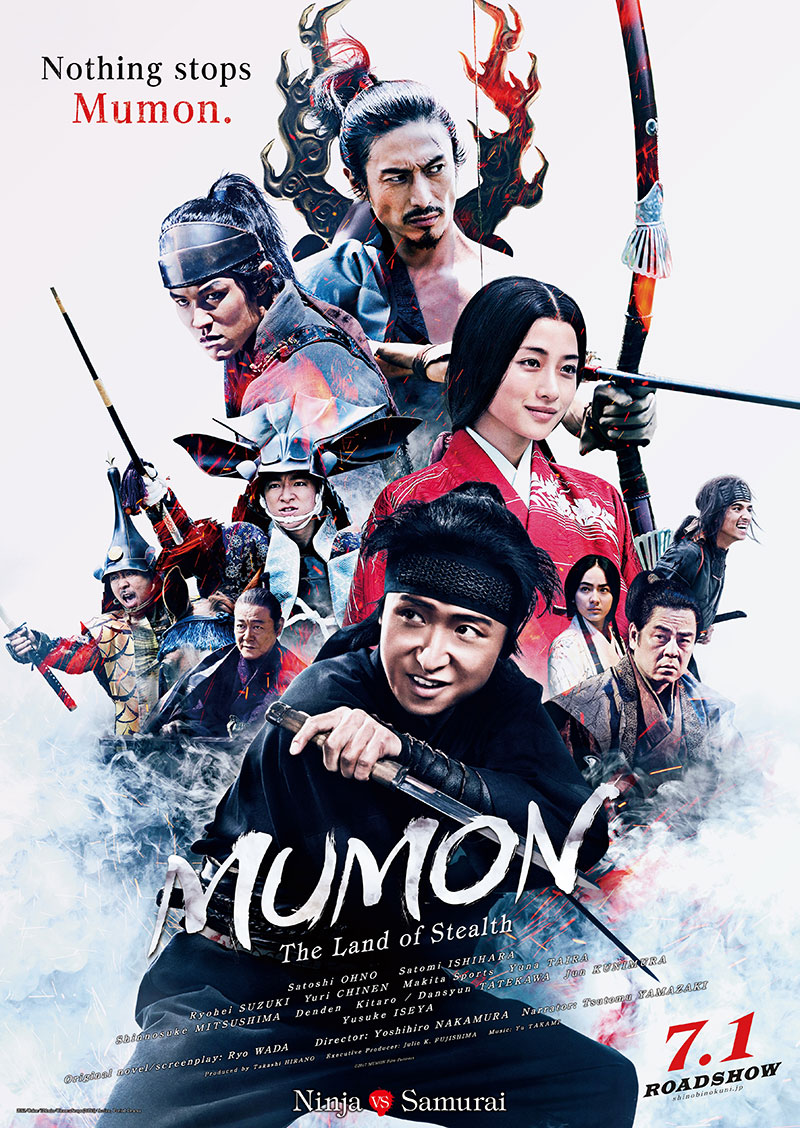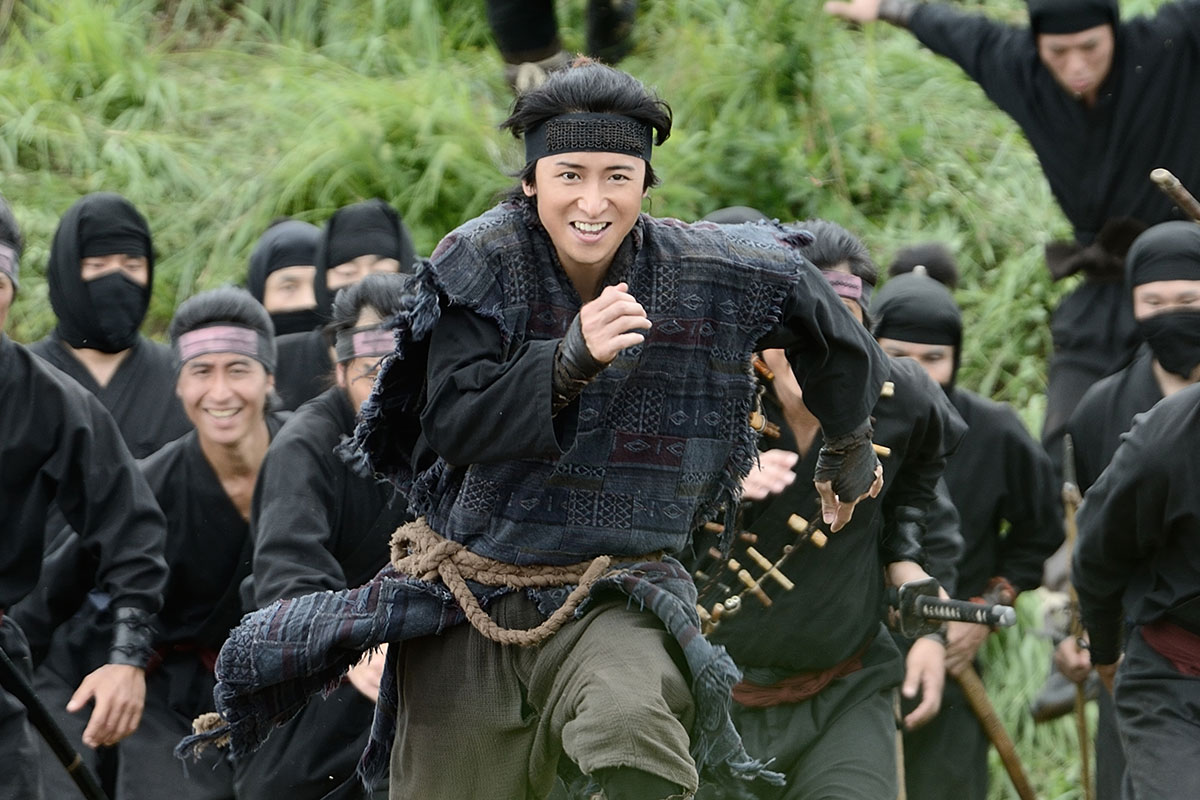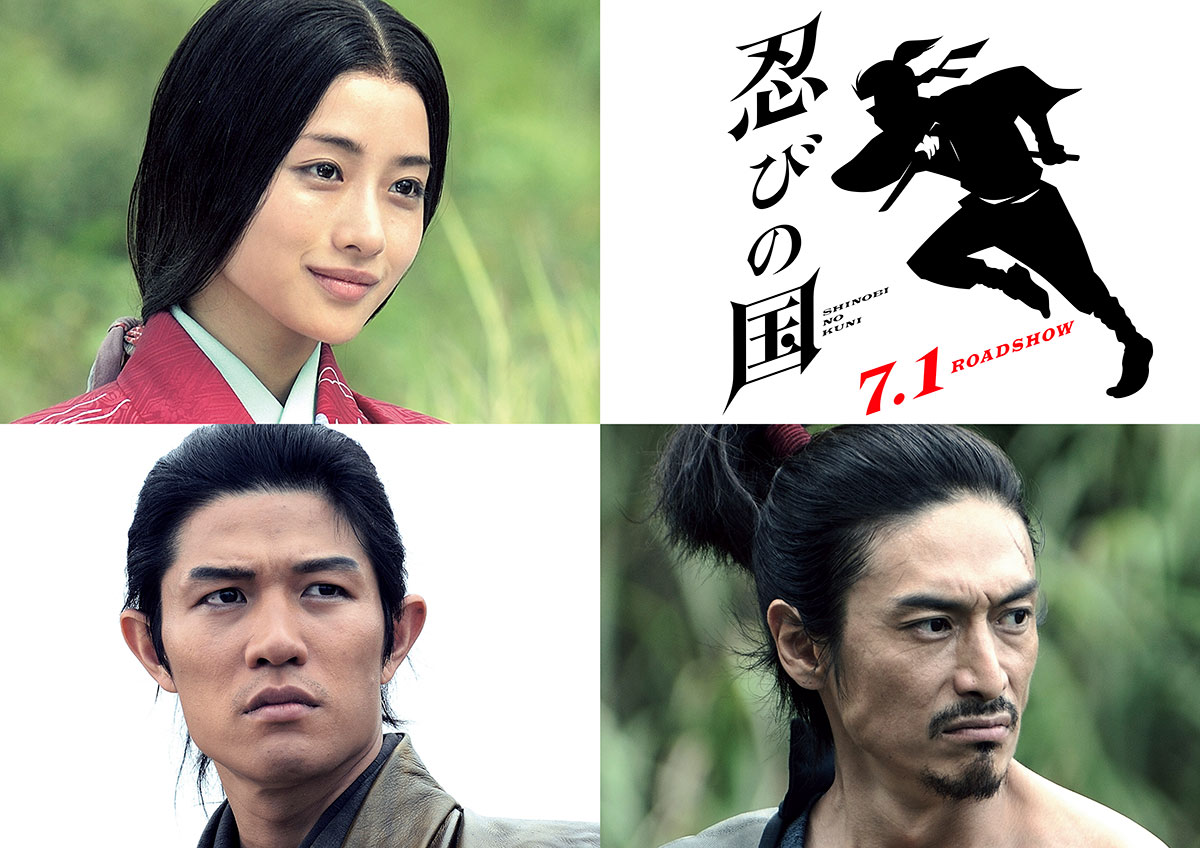 Broadcast Date
Japan Release : 2017.7.1
Episode / Duration
124 min.
Director
Cast
Satoshi Ohno (大野智)
Satomi Ishihara (石原さとみ)
Yusuke Iseya (伊勢谷友介)
Yuri Chinen (知念侑李)
Makitasports (マキタスポーツ)
Yuna Taira (平祐奈)
Shinnosuke Mitsushima (満島真之介)
Denden (でんでん)
Kitaro (きたろう)
Dansyun Tatekawa (立川談春)

It is a warring period in feudal Japan. The warlord, Nobunaga Oda, is rapidly vanquishing his foes on a quest to pacify and unify the country under his rule. However, there is one domain that he forbids to lay a hand on, that of the Iga ninja, whom even the great Nobunaga fears most. The Iga are known to wield extraordinary and supernatural powers as invincible weapons of war who will assassinate anyone for money, and money only. They don't think of people as human and are dubbed "the killer clan". But there is one Iga ninja, Mumon, who while peerless in ability is indolent and taken to task for an inability to earn much of an income. In the fall of the year Tensho 7, Nobunaga's second son, Nobukatsu Oda, decides to ignore his father's orders and attack the Iga country, partly encouraged by Taizen Heki, a man who had once turned on his master and was now employed as a vassal of Nobukatsu. Heibe Shimoyama, whose brother had been killed by Mumon also seeks revenge on the 12 Iga ninja core, including Sandayu Momoji and Kai Shimoyama. Amid various colliding interests and schemes, ultimately, a major bloody showdown is coming between Oda's army and the Iga ninja.
---
때는 전국시대. 오다 노부나가는 주변의 나라를 멸망시키고 천하통일을향해 오로지 달려왔다. 하지만, 한 나라만은 점령할 수 없었다. 바로 마왕노부나가가 가장 두려워했던 일족들. 이가(伊賀) 닌자군단. 그들은 자신의 초인적인 능력을 구사하여 전쟁터에서는 돈을 위해서 사람을 죽이는전투병기였다. 사람을 사람으로 생각하지 않는 잔인한 집단이었다.
그런 닌자의 한사람, 무몬은 이가 제일의 실력을 자랑하지만 엄청난 게으름뱅이이다. 아내인 오쿠니의 눈치를 보며 하루하루를 보낸다. 1579년노부나가의 차남인 오다 노부카쓰는 아버지의 명을 거역하고 이가를 공격하려고 결심한다. 예전의 주군을 배신하고 노부카쓰의 가신이 된 헤키다이젠, 무몬의 손에 동생이 죽어 복수를 맹새하는 시모 헤이베.
이에 대항하는 이가의 중진 모모치 산다유와 시모 가이, 그리고 닌자들.
다양한 인간들의 음모가 뒤섞이며 지략과 모략이 펼쳐지고 오다의 군대와 이가의 닌자들에 의한 장렬한 대전투가 시작된다.
---
時為戰國時代。 就在魔王織田信長接二連三的將諸國毀滅,邁向天下統一之時,僅有一個他絕對不願為敵的勢力。那就是信長最為恐懼的一族-伊賀・忍者軍團。這些忍者有著超人的能力和為了錢而不惜暗殺任何人的殘忍性格。他們似人非人,被稱作為虎狼一族。就在伊賀一族裡有個叫無門的忍者,是在伊賀裡號稱最強但卻是史上最懶惰的傢伙。
天正七年九月,信長的次男・織田信雄不顧父親的交代,決心要攻擊伊賀。信雄的家臣日置大膳則是因為自己的弟弟被無門所殺而堅決要對忍者軍團的重鎮百地三太夫和下山甲斐,以及其他忍者們展開復仇。
就在複雜的利益與陰謀的糾葛之中,織田軍和伊賀忍軍將進入前所未有的時代大戰。