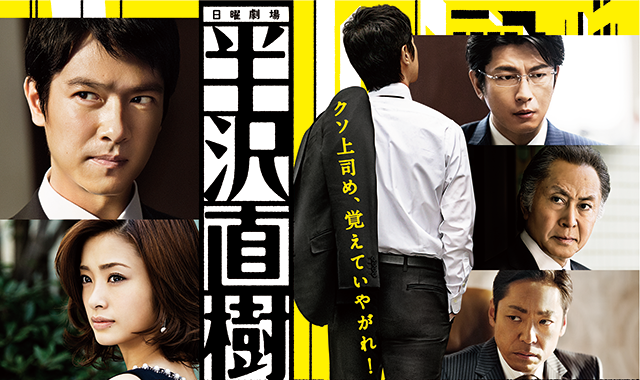 Broadcast Date
2013.7.7 - 2013.9.22
Episode / Duration
10 episodes 114 min x 1 ep / 85 min x 2 eps / 75 min x 1 ep / 70 min x 1 ep / 60 min x 5 eps
Scenario Writer
Cast
Masato Sakai (堺雅人)
Aya Ueto (上戸彩)
Mitsuhiro Oikawa (及川光博)
Kinya Kitaooji (北大路欣也)
Teruyuki Kagawa (香川照之)
Ainosuke Kataoka (片岡愛之助)
Kenichi Takito (滝藤賢一)
Tsurube Shofukutei (笑福亭鶴瓶)
Mitsuko Baisho (倍賞美津子)
Koutaro Yoshida (吉田鋼太郎)

It was the height of the Japanese economic bubble when Naoki Hanzawa landed a coveted job in a major bank. But he finds the life of a banker to be a stormy one. As a loan officer section chief, Hanzawa works to finance the Nishi Osaka Steel company 5 million dollars at the insistence of his stubborn branch manager, Asano, and without collateral! What appeared a blue chip company is actually a heavily indebted concern that has been cooking its books. Within 3 months of the loan, Nishi Osaka Steel goes bankrupt, and Hanzawa and his bank have been deceived out of 5 million dollars. Not willing to take the heat and jeopardize his career, Asano plots to lay the blame on Hanzawa. When called to headquarters in Tokyo to attend investigative hearings about the fiasco, Hanzawa decides instead to deny the money is lost and vows to recover it himself. A believer in the goodness of people, but aware that deception costs double, Naoki Hanzawa's life as a legendary maverick banker begins.
---
버블경제기. 대기업은행에 입사한 한자와 나오키의 은행원생활은 파란의 시작이었다.
융자과장인 한자와 나오키는 반강제적인 아사노지점장의 지시에 따라 니시오사카 강철회사에 5억엔의 융자계약을 맺었다. 게다가 무담보였다. 표면상은 우량기업으로 보인 이 회사는 막대한 부채를 안고 있어 그것을 감추었던 분식결산이 발각된다. 융자 3개월 후, 니시오사카 철강은 어이없게 도산한다. 나오키 일행은 5억엔의 융자를 사기당한 것이었다. 출세에 집념하는 아사노지점장은 그 모든 책임을 나오키 일행에게 떠넘기려고 책략을 세우지만 융자실패에 관해 도쿄본점에서 조사를 받던 나오키는 정면으로 이를 부정하며 사기당한 5억엔을 되찾겠노라 맹세한다. 인간의 선의는 믿지만 당하면 배로 갚는다! 파격적인 은행원, 한자와 나오키의 전설이 지금 시작된다!
---
在泡沫期進入大型銀行「半澤直樹」,他的銀行員生活卻是一波三折。任職融資課長的他,被支店長的「淺野」半脅迫地要他裸貸五億元給西大阪鋼鐵公司。但是表面上看似優質的西大阪鋼鐵公司,卻利用作假帳隱藏背後龐大負債。借貸後三個月,西大阪鋼鐵公司宣布破產。半擇一行人雖被騙,但是一心執念要成功的淺野支店長卻計劃想嫁禍給半澤。 但是被叫到東京本部協助調查的半澤卻堅決否定並揚言要奪回被騙走的5億元。雖堅信人性本善的他,報復時一定加倍奉還。這個與眾不同的銀行員工。半澤直樹的傳說既將開始。