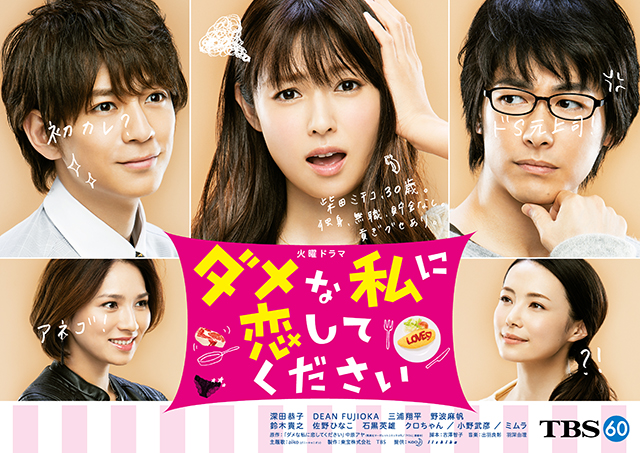 Broadcast Date
2016.1.12 - 2016.3.15
Episode / Duration
10 episodes 75 min × 1 ep / 60 min × 9 eps
Scenario Writer
Cast
Kyoko Fukada (深田恭子)
Dean Fujioka (ディーン・フジオカ)
Shohei Miura (三浦翔平)
Maho Nonami (野波麻帆)
Takayuki Suzuki (鈴木貴之)
Hideo Ishiguro (石黒英雄)
Hinako Sano (佐野ひなこ)
Kuro-chan (クロちゃん)
Risa Naito (内藤理沙)
Kazushige Komatsu (小松和重)

Michiko Shibata is single, unattached and unemployed after her previous employer went bankrupt. Failing to land a job, she leads a destitute life surviving mainly on cabbage but craving meat. And she has tapped out financially after lending all of her savings to a handsome young man she pines after.
Her life reaches an all-time low when she reaches for a can of cat food found on the street, but just then, former supervisor, Kurosawa appears and wonders what she's doing. "I'm dying for meat," she wines. So Kurosawa takes her to a coffee shop he runs called "Himawari" (Sunflower) and offers her a part-time job. Michiko hesitates as she remembers the nightmarish life working under this tyrannical man at the last company. But at Himawari, he seems to show a different side. Maybe the fortunes of this sorry woman is about to change.
---
독신, 애인없음. 시바타 미치코는 근무하던 회사의 도산으로 실업중이다. 취직활동도 연일 실패하며 좋아하는 고기요리도 먹지 못하고 양배추로 근근히 가난한 생활을 버티고 있다. 그럼에도 불구하고 연하남을 동경하며 물주가 되더니 통장의 잔고도 바닥이 보이기 시작한다. 그런 아무것도 없는 별볼일 없는 여자, 미치코가 고기에 대한 끊임없는 욕구에 고양이 사료인 캔으로 손을 내미는 찰나 예전 상사인 쿠로사와 아유무를 만난다. 고기가 먹고 싶다고 중얼거리는 미치코를 자신이 경영하는 카페 히마와리에 데리고 간 쿠로사와는 자신의 가게에서 아르바이트를 해보라며 그녀에게 제안한다. 그리하여 직업을 갖게 된 미치코였지만 히마와리에서의 날들은 예전의 악몽을 떠올리게 했다. 예전 회사에서 미치코는 쿠로사와에게 언제나 꾸중을 듣고 벌벌 떨었기 때문이었다. 하지만, 히마와리에서의 쿠로사와는 무섭고 끔찍했던 옛상사와는 다른 일면을 가지고 있었다.
---
單身沒有男朋友的柴田美知子,面臨公司倒閉,求職屢屢失敗,過著連最愛吃的肉都吃不了的只能啃高麗菜的極貧日子。這樣的她卻一有錢就會貢獻給年紀比她小的男生,但某天,餓過頭的她,抵擋不了想吃肉的慾望,正要伸手拿走流浪貓在吃的罐頭時,遇見了她過去的上司 黑澤步。 喃喃自語好想吃肉的美知子被黑澤帶到了黑澤媽媽經營的咖啡店-向日葵並被提出在這裏的打工的邀請。非常需要工作的美知子雖然答應了但其實心裏百般忐忑不安。因為在過去曾是黑澤部下的她,每天都被黑澤的毒舌攻擊而極度討厭他。但是開始在向日葵打工的美知子,卻發現毒蛇的黑澤溫柔體貼的一面,,,