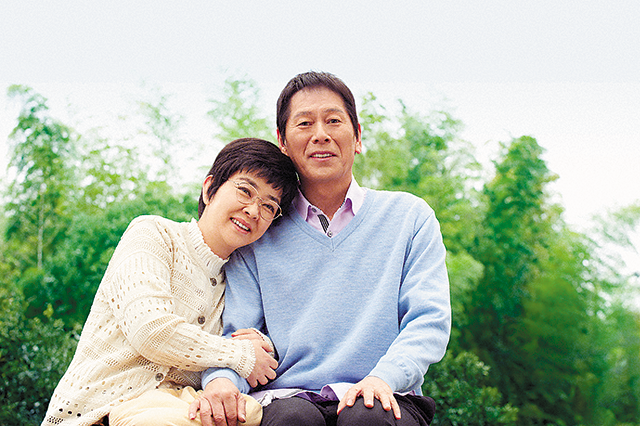 Broadcast Date
2012.7.23
Episode / Duration
1 episode 135 min. x 1 ep.
Scenario Writer
Cast
Kayoko Kishimoto (岸本加世子)
Ren Osugi (大杉漣)
Baijaku Nakamura (中村梅雀)
Kotaro Koizumi (小泉孝太郎)
Hiroko Yakushimaru (薬師丸ひろ子)
Masaki Kanda (神田正輝)
Pinko Izumi (泉ピン子)

It happened all so suddenly. Sugako Hashida had urged her husband to be examined after he complained of chest pains. She had never given any thought to a major illness from the way her husband deftly went about fulfilling his long-cherished dream of becoming a farmer. But the verdict from the doctor, given first to Hashida before the patient Iwasaki himself, was cruelly unexpected. He has terminal cancer that cannot be operated on, and only six months to live. Knowing that her husband cannot fight the disease and that the time remaining is all they've got, Hashida elects not to tell Iwasaki. How to prepare for that inevitable "day of parting" becomes the central theme of this autobiographical drama written in the first person by screenwriter Sugaoko Hashida the author of numerous masterpiece dramas who confessed, "Of all the things I've experienced in my life, nothing could compare with the pain of this."
---
그것은 너무나도 갑작스럽게 찾아왔다. 가슴의 통증을 호소하는 남편에게 검사를 권한 스가코 였지만 남편이 자신이 꿈꿔왔던 밭농사를 거뜬히 해내는 모습에서 병마의 모습은 전혀 느껴지 지 않았다. 하지만, 담당의사로부터 남편은 수술이 불가능한 암이며 6개월 시한부인생이라는 잔혹한 검사결과를 전해듣는다. 병마와 싸우지도 못하고 시간도 남지 않았다는 검사결과에 스 가코는 남편에게는 비밀로 하리라 결심한다. 언젠가 반드시 찾아오는 부부의 이별을 어떻게 맞 이할것인가? 지금까지 살아오면서 이런 괴로움은 없었다고 고백한 일본에서 수많은 명작을 탄 생시킨 각본가 하시다 스가코가 자신의 인생을 되돌아보며 일인칭으로 그린 자서전적 드라마.
---
一切發生地太突然。「橋田壽賀子」建議胸口疼痛的丈夫「岩崎嘉一」去醫院檢查,當時的岩崎熱衷于年輕時就嚮往的種田生活,完全沒有任何大病的徵兆。但是在擔任的主治醫生「大原」在向丈夫岩崎本人報告檢查結果前,先得知殘酷結果的妻子橋田。岩崎患的是手術也無法根治的癌症並且只剩下半年的餘命。知道自己丈夫的病是無藥可醫只能存活半年的橋田選擇將此事隱瞞。橋田該如何面對終有一天要來臨的"夫妻離別"和不知自己病情的丈夫呢?在日本創造出無數名作的腳本家橋田賀壽子的真心告白,"我的人生中再沒有比這還要煎熬的事"。
這是一部橋田以第一人稱回想,自述的追思劇。