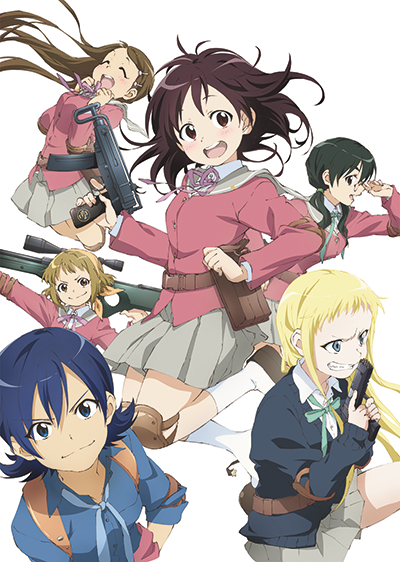 Broadcast Date
2013.7.4 - 2013.9.26
Episode / Duration
13 episodes 30 min. x 13 eps.
When Yura arrives at Stella Girls' Academy, her new roommate invites her to join a club called C3. C3 stands for Command, Control and Communications, a survivalist club. So faster than you can say "bang, bang, you're dead," Yura and fellow new recruits Rento and Yachiyo are drafted into the ranks.
---
들뜬 심장의 고동소리 , 부푸는 망상….
동경하던「스텔라 여학원」으로의 입학이 결정되고 고교 의 새로운 생활에 가슴이 두근거리는 야마토 유라 .
「어쩜…. 이곳에서라면 난 변할지도 몰라!」
기대에 부푼 가슴을 안고 기숙사 방안에 눕자 베갯밑에 「데저트이글」이 !!
여고생 !? C3 부 !! ? 서바이벌게임 !!!?
청춘 서버이벌 스토리가 시작된다 !
---
彭湃的鼓動 膨脹的妄想⋯
一直嚮往著史黛拉女子學院的「大和由良」懷著期待入學迎接高中新生活也許..在這裡我就可以改變。
滿懷期待的她回到自己宿舍休息躺著的時候在枕頭下發現甜點老鷹⋯
那是女高校生?!C3部(C立方)!!的生存遊戲!!!!?
現在,青春的生存遊戲物語即將展開。