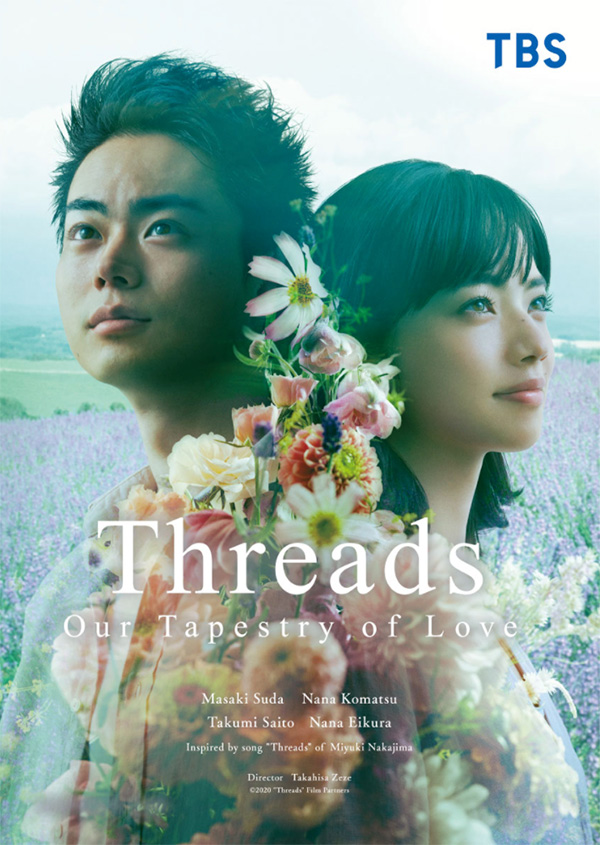 Broadcast Date
JP Release 2020.8.21
Episode / Duration
130 min
Director
Scenario Writer
Cast
Masaki Suda (菅田将暉)
Nana Komatsu (小松菜奈)
Nana Eikura (榮倉奈々)
Takumi Saitoh (斎藤工)
Mizuki Yamamoto (山本美月)
Mitsuko Baisho (倍賞美津子)
Ryo Narita (成田凌)
Fumi Nikaidou (二階堂ふみ)
Mahiro Takasugi (高杉真宙)
Fumika Baba (馬場ふみか)

This is a love story inspired by the song "Threads" by Miyuki Nakajima.
Nakajima's song is about the miracle of meeting a loved one and the ties of love that bind them. The song, which imagines these ties as threads woven through life, was released in 1998 as a dedication at her friends' wedding. Ever since, this song has been loved by millions and been covered by over 120 artists in Japan.

In 2019, the Heisei period has come to a close after 31 years. A boy and a girl, who were born in the 1st year of Heisei, meet each other in childhood, eventually fall in love, but become separated along life's path. They live in totally different circumstances, but continue to keep each other in their thoughts.

Though life brings them together from time to time, it is difficult for them to re-establish their ties. Even so, they don't forget to live their lives to the fullest and love those around them with everything they can. This film tells the story of thirty years in the lives of two people connected by a thread of destiny, and is sure to awaken in those who view it a new appreciation for meeting people.
---
만남, 두 개의 이야기.

13살, 첫사랑. 두 사람은 멀리 헤어지게 된다.
21살, 재회. 지나간 시간은 되돌릴 수 없었다.
31살, 현재. 만약, 다시 한번, 당신을 만나게 된다면….

사람은 기적과 같은 확률로 누군가와 만난다.
헤이세이 1년(1989년)에 태어난 렌과 아오이.
엇갈림, 먼 이별, 그리고 각자의 인생을 걸어온 두 사람이 헤이세이 마지막에 재회한다.
운명이 갈라 놓은 남녀가 또다시 만나게 되는 과정을
헤이세이라는 시대의 변천과 함께 그린 장대한 러브스토리.

헤이세이1년(1989년)에 태어난 다카하시 렌과 소노다 아오이. 홋카이도에서 자란 두 사람은 13살에 만나 처음으로 사랑을 한다. 그런 어느 날, 아오이가 갑자기 사라진다. 새아버지의 학대를 견디지 못하고 마을에서 도망을 간 것이었다. 사실을 알게 된 렌은 필사적인 심정으로 아오이를 찾아 나서고 함께 떠나기로 결심한다. 하지만 어린 두 사람의 도피행은 목적지에 도착하기도 전에 곧 경찰의 보호를 받는다. 그 후, 아오이는 어머니의 손에 이끌려 홋카이도를 떠나게 되고 그 일을 알게 된 렌은 배웅조차 못하고 두 사람은 그렇게 멀리 헤어진다…. 그로부터 8년 후, 고향의 치즈 공방에서 일하던 렌은 친구의 결혼식으로 가게 된 도쿄에서 아오이와 재회한다. 홋카이도에서 살아갈 것을 결심한 렌과 세계를 돌며 자신을 시험해 보겠다는 아오이. 이미 두 사람은 서로 다른 인생을 걷기 시작하고 있었다. 그리고 10년 후, 헤이세이 마지막 해가 되는 2019년. 운명은 마지막으로 또다시 두 사람을 만나게 해주었다….
---
講述際遇相會的兩個故事。
13歲,初戀。二人被遠遠分開。
21歲,再會。時光無法倒流。
31歲,現在。如果能再一次與你相遇……

一個人與另一個人際遇相會的概率,簡直就如奇跡一般。
在平成元年出生的漣和葵。
擦身而過,遠遠分開,各自走在自己的人生道路上,又在平成結束時再次相會……
這是一個關於男女二人被命運分開後再次相逢,並且融合了整個平成時代變遷的宏偉的愛情故事。

在平成元年出生的高橋漣和園田葵。在北海道長大的二人在13歲時相識並陷入初戀。有一天,葵突然消失了。因為無法忍受養父的虐待,她逃離了這個城市。知道真相之後的漣,拼命地尋找著葵,並準備與她一同浪跡天涯。然而,兩個出逃的孩子因實在沒有地方可去,馬上就被警察找到了。葵被母親帶著離開了北海道。對此一無所知的漣甚至都無法去送一下葵,二人就此遠遠分離……8年後,在當地的乳酪廠工作的漣,因為參加朋友在東京的婚禮,再一次見到了葵。決定在北海道生活下去的漣,和環遊世界不斷鍛煉著自己的葵,二人已經走在了不同的人生道路上。又過去了10年,在平成最後的那一年2019年,命運再一次讓二人不期而遇……