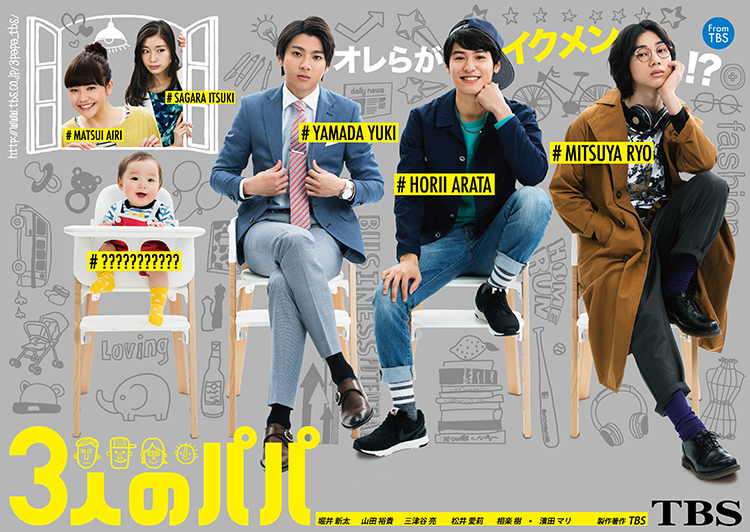 Broadcast Date
2017.4.19 - 2017.6.21
Episode / Duration
10 episodes 30 min x 10 eps
Scenario Writer
Cast
Arata Horii (堀井新太)
Yuki Yamada (山田裕貴)
Ryo Mitsuya (三津谷亮)
Airi Matsui (松井愛莉)
Itsuki Sagara (相楽樹)
Mari Hamada (濱田マリ)

Takuto, our protagonist, shares a house with his friends from high school – Kyohei and Hajime. He comes home to find a baby sleeping peacefully in the room. When the other two residents also return, they read a letter that has been left on the desk. "This is your baby." Although they're not quite sure what to do, the young men begin to feel responsible and they appear to make a decision to raise it together. However…

The three young men – afraid of learning the truth - take on the task of raising a baby in this slapstick comedy drama.

How would react if you suddenly became a father?
---
고교시절 친구와 함께 쉐어하우스에 살고 있는 타쿠토는 집에 돌아오자 방안에 아기가 새근새근 잠들어 있다. 함께 사는 친구 쿄헤이와 하지메도 귀가하여 갑자기 나타난 아기의 존재에 당황해한다. 상황을 파악하지 못한채 세명은 책상에 놓여진 편지에 눈을 돌린다.
「이 아기는 당신의 아이입니다」
쩔쩔매는 세사람은 눈앞의 생명에 책임감을 느끼기 시작하고 아기를 키울 결심을 하는듯 보이는데…. 옳고 그름을 확실히 하는것이 무서운 무책임한 젊은 세명의 "요란스런 육아라이프"가 시작된다! 어느날 갑자기 아빠가 된다면 당신은 어떻게 할 것인가?
---
和高中時代的朋友在份額房屋生活的主人公、拓人剛回家,就看到了一嬰兒在房間中正睡得香甜。一起生活的朋友、恭平和朔回家,也對房間裏突然出現的嬰兒感到困惑。不能得到狀况的3個人,只好先看一下被放在桌子上的信。
"這個孩子是你的小孩"
最初驚慌失措的3個人針對眼前的生命開始感到責任,看起來好像決定了培養那個孩子,但是… 。害怕分別黑白加上不負責任的3個年輕人的"打打鬧鬧的育兒生活"現在開始! 如果有一天突然成為了爸爸的時候,你會怎麼辦?