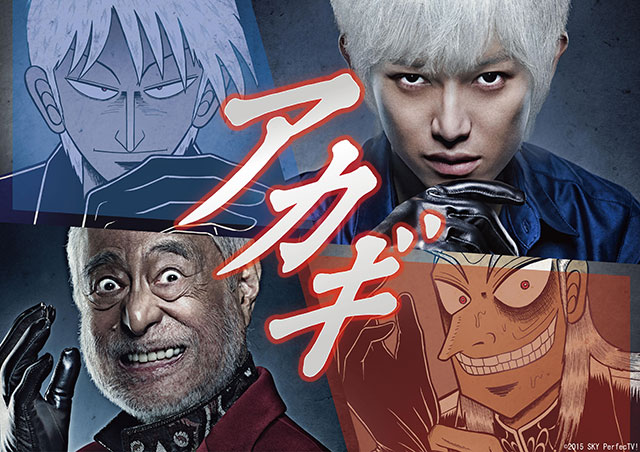 Broadcast Date
2015.7.17 - 2015.9.18
Episode / Duration
10 episodes 60 min × 10 eps
Scenario Writer
Cast
Kanata Hongo (本郷奏多)
Masahiko Tsugawa (津川雅彦)
Yoji Tanaka (田中要次)
Satoshi Jinbo (神保悟志)
Hideyuki Kasahara (笠原秀幸)
Tomohiro Kaku (郭智博)
Nobuaki Fujioka (藤岡信昭)
Kenji Mizuhashi (水橋研二)

A sweltering summer evening in 1965, legendary mahjong master (or "janshi"), Shigeru Akagi, challenges Japan's richest and most powerful underworld kingpin, Iwao Washizu, to a special game of "Washizu rules mahjong" in which Akagi must stake his own blood against the assets of his opponent. A cop dedicated to taking Washizu down and an up-and-coming crime syndicate leader named Ohgi, are hoping Akagi is talented and crazy enough to win. On this night, mahjong history will be made.
---
"전설의 마작사"로 불리워진 한 사나이가 있었다. 그의 이름은「아카기 시게루」1965년 어느 여름. 아카기는 지인인 불량형사 야스다의 부탁으로 "거만의 부와 권력을 가진 일본 암흑세계의 왕"「와시즈 이와오」와 대전하게 된다. 참관인으로 선 이나다조직의 젊은 우두머리 오기가 지켜보는 가운데 피와 돈을 쟁탈하는 사투, 와시즈 마작이 시작된다. 미치지 않고서는 살아남을 수 없다. 아카기의 혈액과 와시즈의 전재산을 건 와시즈 마작.
오늘밤, 전설적인 그날밤의 막이 오른다!
---
一度被譽為"傳說的麻將士"的男人,赤木茂。
時間是昭和40年某天的夏日。赤木受到友人,不良刑警安岡的調查依賴,要和握有龐大財富和権力的日本黑社會的頭目「鷲巣巌」對戰暗黑麻將。這是一場不玩命生存不了的血腥戰爭。用赤木的鮮血換鷲巣全財產的賭博,就在今晚揭開傳說的一幕。