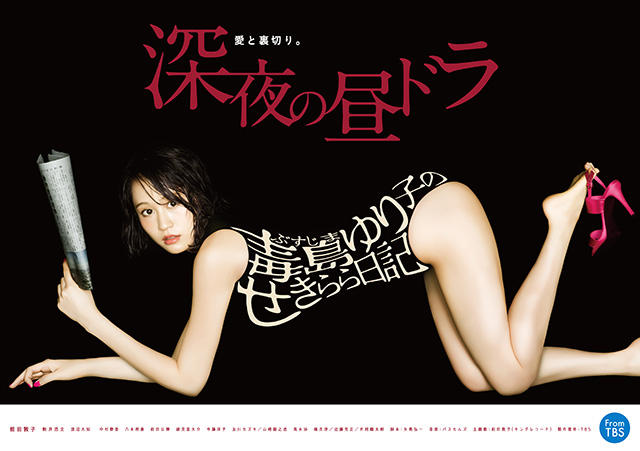 Broadcast Date
2016.4.20 - 2016.6.22
Episode / Duration
10 episodes 30 min × 10 eps
Scenario Writer
Cast
Atsuko Maeda (前田敦子)
Hirofumi Arai (新井浩文)
Daichi Watanabe (渡辺大知)
Shizuka Nakamura (中村静香)
Masayasu Yagi (八木将康)
Goki Maeda (前田公輝)
Daisuke Moromizato (諸見里大介)
Yoko Kondo (今藤洋子)
Kazuki Tomokawa (友川カズキ)
Ginnojo Yamazaki (山崎銀之丞)

Ever since high school, Yuriko Busujima has been without several boyfriends. Now into her third year as a political beat reporter for a newspaper, she finds herself in a 4-year relationship with a musician named Midori and courting another guy. "Marriage is hell" and "Betray a guy before he betrays you" are her life mottos as she publicly flaunts her two-timing affair. Professionally, she searches for the opportunity to land a big scoop. And when it comes, fraught also with new romance, Yuriko is vindicated in her belief that "love" and betrayal" are merely two sides of the same coin. A new type of adult-oriented entertaining drama.
---
고교시절부터 남자친구가 끊이지 않았던 초연예체질의 부스지마 유리코. 꿈에 그리던 신문사 정치부기자로 일한지 어느덧 3년이 지났다. 사귄지 4년째를 맞는 착한 뮤지션남친 미도리도 있지만, 그녀에게는 또 한명의 남친이 있다. 유리코는 "결혼은 지옥이다. 남자에게 배신당하기 전에 먼저 배신해야 한다"는 남다른 철학으로 공공연히 양다리연애를 즐기고 있다.
일과 사랑, 모두가 순조로운 유리코에게 기자로서 특종의 기회가 찾아온다. 그리고 새로운 사랑도 시작되지만…, 유리코는「사랑」과「배신」은 표리일체라는 것을 연애와 일에서 뼈저리게 느끼게 된다. 연애, 정치세계의 사랑과 배신을 테마로 한 새로운 성인엔터테인먼트 드라마.
---
從高中時期以來就沒有空窗期的超級戀愛體質-毒島百合子。進入了嚮往的報社的政治部當記者如今第三年。雖然和愛她的溫柔音樂家男友-美登里已經交往四年,卻同時和另外一個男人劈腿。因為兒時的陰影,讓她認為一旦結婚就是入地獄,並且在被男人背叛受傷前先自己背叛的想法下,一直以來享受著劈腿的樂趣。
在戀愛和工作都一帆風順的情況下,某天有個千載難逢的機會降臨在當記者的她,不僅如此,還伴隨著新戀情的預感。百合子將她對愛和背叛是表裡一體的想法淋漓盡致地發揮在戀愛和事業上。就讓我們一同來觀賞這部以愛和背叛,新感官的深夜大人政治戀愛劇吧。