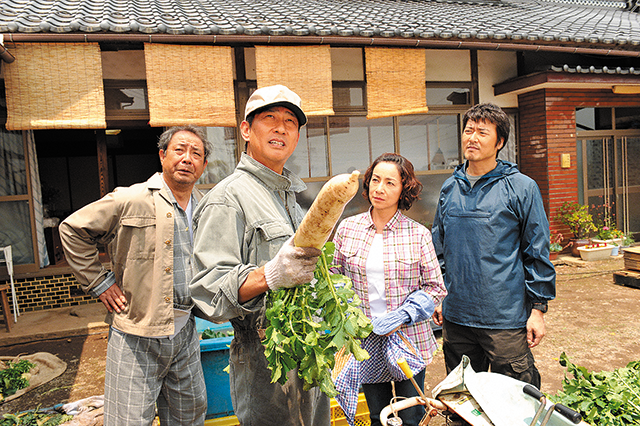 Broadcast Date
2012.7.1
Episode / Duration
1 episode 134 min. x 1 ep.
Scenario Writer
Cast
Kiichi Nakai (中井貴一)
Kenji Sakaguchi (坂口憲二)
Osamu Mukai (向井理)
Shiori Kutsuna (忽那汐里)
Kei Tanaka (田中圭)
Manabu Hamada (浜田学)
Rei Okamoto (岡本玲)
Sei Hiraizumi (平泉成)
Kosuke Toyohara (豊原功補)
Mieko Harada (原田美枝子)

Yuichiro Sawada is an elite company man with a blue chip trading company, in charge of a major overseas infrastructure building project. Supported by his beautiful wife and talented cook, Yoshino, his son, Daichi, a graduate of Tokyo University now employed at the Ministry of Economics, Trade and Industry, and daughter, Mariko, a student at the University of Washington, Sawada's life seems the picture of success with talk of a major promotion to executive status close at hand. But then Yuichiro is diagnosed with cancer, and before he has a chance to tell his family, they have become estranged from him. Forlorn, Yuichiro resolves to use his remaining time on Earth helping his family fulfill their dreams, and it becomes his driving passion and wish as a father and husband. Yuichiro's passionate pursuit soon begins to transform his family, too, realizing how the ability to dream can create new and lasting bonds between people, and in their relationship to society.
---
사와다 유우이치로는 대기업에서 해외인프라비지니스를 담당하는 엘리트 샐러리맨. 요리솜씨 좋은 미인아내, 도쿄대를 졸업하고 산업성에서 근무중인 장남, 워싱턴대학에 유학중인 장녀를 둔 유우이치로는 임원승진의 소문과 함께 모든것이 순조롭다고 여기고 있었다. 하지만, 갑자기 그에게 암선고가 선고되고 그 소식을 전하기도 전에 가족은 유우이치로를 떠나기 시작한다. 홀 로 남겨진 유우이치로는 남겨진 시간을 가족들의 꿈을 위해 뒷바라지하겠다고 결심한다. 그것 이 아버지로서 남편으로서 마지막「꿈」이었다. 꿈을 향한 아버지의 모습을 본 가족들도 변해 간다. 꿈을 가진것이 사람과 사람의 정, 사람과 사회의 정을 새롭게 탄생시켜 간다.
---
「澤田雄一郎」是在一流商社裡負責海外的基礎建造的精英白領族。他的家庭成員亦優秀。賢惠的美妻「佳乃」,東京大學畢業在國家經產省工作的長男「大地」和正在華盛頓大學留學的長女「麻理子」所組成的四人家庭。在雄一郎深信自己所有事都一帆風順,事業上也即將被升遷為公司董事時突然被告知得了癌症。但在他可以和家人宣佈自己癌症消息前,他的家人已逐漸離他遠去…。孤獨的雄一郎,決心在所剩的時間裡支持家人每個夢想。以丈夫或父親的角色幫家人圓夢也變成雄一郎最後的夢想…。然後,看著父親朝著這個夢想努力的家人也漸漸改變凝聚。築夢的力量在人與人和社會間的牽絆帶來新的改變。