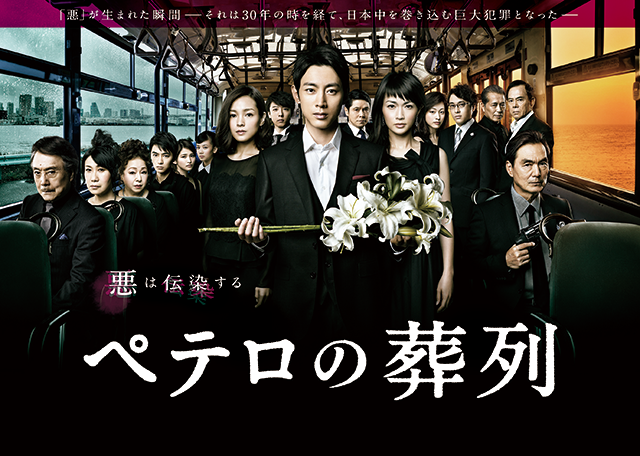 Broadcast Date
2014.7.7 ~ 2014.9.15
Episode / Duration
11 episodes 115 min. x 1 ep. / 60 min. x 10 eps.
Scenario Writer
Cast
Kotaro Koizumi (小泉孝太郎)
Kyoko Hasegawa (長谷川京子)
Ryoko Kuninaka (国仲涼子)
Shigeru Muroi (室井滋)
Murotsuyoshi (ムロツヨシ)
Rei Okamoto (岡本玲)
Issei Takahashi (高橋一生)
Kyozo Nagatsuka (長塚京三)
Noriko Aoyama (青山倫子)

Dramatic serialization of best-selling author Miyuki Miyabe's latest addition to her "Saburo Sugimura Series", the sequel to "Nameless Poison." Sugimura is living a reverse Cinderella story having married the daughter of president to a major conglomerate, and now working as editor of the firm's in-house gazette. A devoted husband and doting father, Sugimura aspires to an ordinary life but invariably has to unravel various company-related "incidents" at the request of his father-in-law. One day, Sugimura finds himself at the center of an armed bus jacking by an old man with gun. The perpetrator's hidden motive speak to the core of Japan as a nation and to the difficulties of the human condition. While no one is above making the occasional "lie", what does one do when a lie grows a life of its own and becomes irreversibly damaging to many. How does one begin to atone?
---
미야베 미유키 원작「스기무라 사부로」시리즈의 최신작을 드라마화했다.「이름없는 독」의 제2탄. 스기무라는 거대기업의 딸과 결혼하여 장인이 회장을 맡고 있는 이마다 콘체른 홍보실에서 사보의 편집을 담당하고 있다. 애처가이자 다정한 아빠로 평범한 회사원인 스기무라는 회장의 의뢰를 받기 시작하면서 갖가지 사건에 휘말리게 된다. 어느날, 스기무라는 권총을 가진 노인이 버스를 납치하는 사건과 조우한다. 사건의 진정한 동기이면에 감춰진 일본이라는 나라, 인간의 본질에 숨겨진 어둠. 누구나가 해 봤던 경험이 있는「거짓말」, 그리고 그「거짓말」에 많은 사람들이 말려들며 되돌릴 수 없는 거대한「거짓말」이 되었을때 어떻게 하면 속죄할 수 있을까?
---
宮部美雪原作「杉村三郎系列」的最新作品的連續劇版本。繼「無名之毒」第二彈。男主角一衫村入贅於巨大企業的千金。岳父是巨大企業的會長,在多數大企業的廣播室擔任公司內部消息的編輯。平凡顧家的上班族衫村因為答應了會長一些事而被捲入各種事件。有一天衫村坐上了一輛被一個持槍老人所狹持的巴士。事件的背後隱藏了日本政府的陰謀?人類本性的黑暗。謊言,大家都曾說過。但當一個謊言捲入了許多人變成了一個沒有辦法挽回的大謊言時,這些謊言下的罪行和犧牲者該由誰來負責和補償呢?