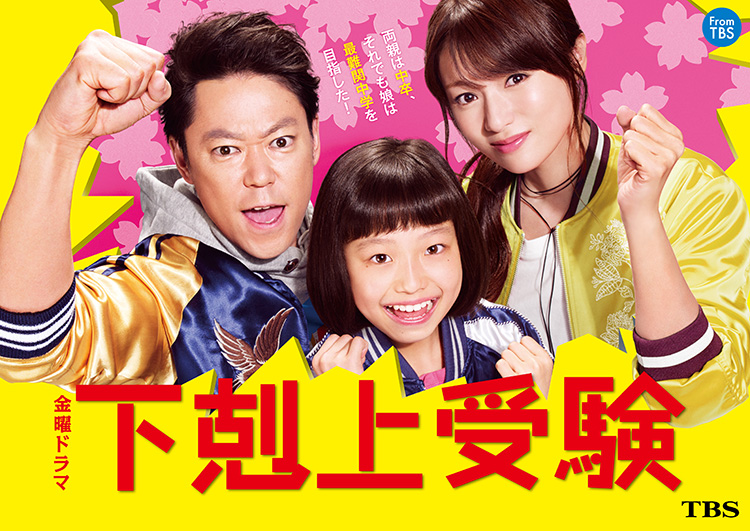 Broadcast Date
2017.1.13 - 2017.3.17
Episode / Duration
10 episodes 114 min × 1ep / 85 min × 1 ep / 75 min × 2 ep2 / 60 min × 6 eps
Scenario Writer
Cast
Sadawo Abe (阿部サダヲ)
Kyoko Fukada (深田恭子)
Mikuu Yamada (山田美紅羽)
Wakadanna (若旦那)
Sarutoki Minagawa (皆川猿時)
Kohki Okada (岡田浩暉)
Yosuke Kawamura (川村陽介)
Fuka Koshiba (小芝風花)
Toru Tezuka (手塚とおる)
Jun Kaname (要潤)

A father with only a middle school education teams up with his daughter to get her into a top-tier middle school despite her attending a very low-rated grade school and without spending on cram school tuition. Based on a true story, this drama gives a full account of the 18-month-long effort of one family, beginning with the daughter's 5th grade summer, to reverse fortunes and take advantage of equal opportunity.
---
중졸의 아버지와 편사치41의 딸이 학원에도 가지않고 2인3각으로 최난관중학교를 목표로한"기적의 실화"를 바탕으로 초등5학년 여름부터 중학교시험까지의 약1년6개월에 걸친 가족의 분투기를 담았다.
찬스는 모두에게 공평하게 있다! 인생대역전을 건 부모와 딸의 "사랑과 도전"의 대기록!
---
本劇是根據一個家族的有如奇跡的實際故事。描寫從女兒小5的夏天起,到挑戰中學聯考為止的約1年半的家族全員的奮戰。學歷僅為初中畢業的父親和偏差值41的女兒,就連補習班也不去,齊心協力攻克最難考的中學。
機會是人人平等的! 這是把人生的大逆轉賭上的親子之間的「愛和挑戰」的全記錄!