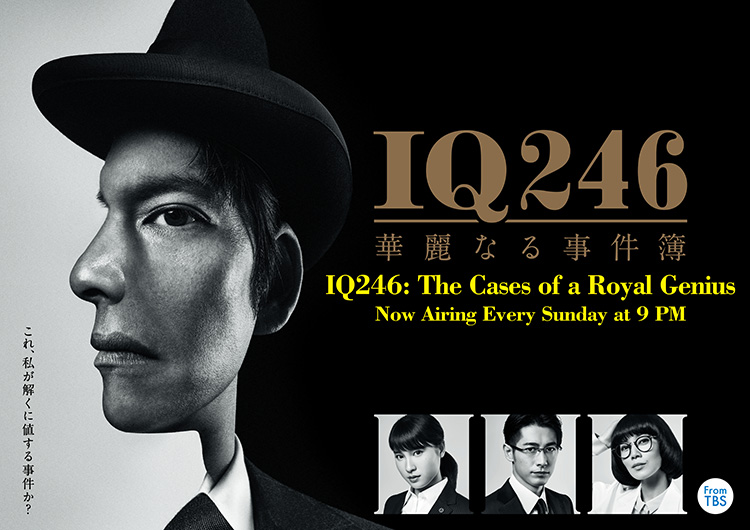 Broadcast Date
2016.10.16 - 2016.12.18
Episode / Duration
10 episodes 60 min × 10 eps
Scenario Writer
Yoko Izumisawa (泉澤陽子)
Shizuka Kurimoto (栗本志津香)

Cast
Yuji Oda (織田裕二)
Tao Tsuchiya (土屋太鳳)
Dean Fujioka (ディーン・フジオカ)
Miki Nakatani (中谷美紀)
Snuntaro Miyao (宮尾俊太郎)
Sei Matobu (真飛聖)
Yua Shinkawa (新川優愛)
Masato Yano (矢野聖人)
Eisuke Sasai (篠井英介)
Susumu Terajima (寺島進)

For generations, the blue-blooded Homonji family has been devoted to a pure and rigorous pursuit of knowledge in all forms, regardless of the powers that be or the fortunes of the aristocracy with whom they sympathize. But now, inheriting the pedagogic mantel of the family as its 89th master is Sharaku Homonji, a super genius with an IQ of 246, and a man with time on his hands. "Ah, I'm so bored. Isn't there a puzzle I can solve?" Sharaku goes in search of "worthwhile" mysteries to crack, putting his super genetic brain to the test.
---
고귀한 귀족의 혈통이면서도 시대의 권력과는 관계없이 대대로 온갖 학문을 탐구해 온 호우몬지 가문. 그 폭넓은 지식은 대대로 호우몬지의 당주에게 IQ 246이라는 경이로운 능력을 안겨주고 지금의 89대 당주 호우몬지 샤라쿠까지 이어지고 있었다.
「아아, 심심하다. 심심해. 어디 내가 풀만한 수수께끼가 없을까?」
언제나 시간을 주체하지 못해 자신이 풀만한 수수께끼를 원하는 샤라쿠가 세상의 난해한 사건을 IQ 246 슈퍼두뇌로 멋지게 해결해간다!! 천재귀족 호우몬지 샤라쿠가 강림했다!
---
貴不可言的法門寺家族脈承貴族血統,從未受當朝政治權力拘束,代代盡情地鑽研學問。那浩瀚的知識綿延傳承,讓法門寺傳人擁有IQ246的特異能力,現在當家的是第89代的法門寺沙羅驅。
「啊唷…好閒好閒喔~有沒有甚麼值得我解的謎題呢…?」
閒著沒事做,法門寺沙羅驅成天在尋求有挑戰價值的謎題來解。看她以IQ246的超遺傳高智商,華麗地解決充斥在這個世間的困難事件!!此時此地,天才貴族法門寺沙羅驅將大顯身手!