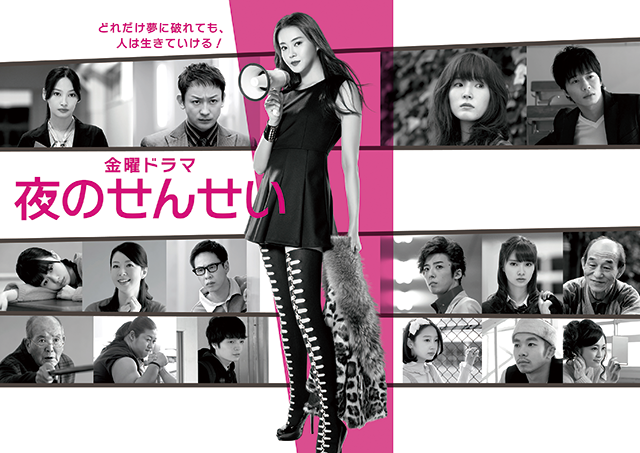 Broadcast Date
2014.1.17 - 2014.3.21
Episode / Duration
10 episodes 75 min x 1 ep / 60 min x 9 eps
Scenario Writer
Cast
Arisa Mizuki (観月ありさ)
Misako Renbutsu (蓮佛美佐子)
Kei Tanaka (田中圭)
Aya Omasa (大政絢)
Koji Yamamoto (山本耕史)
Yua Shinkawa (新川優愛)
Ken Mitsuishi (光石研)
Issei Takahashi (高橋一生)
Takashi Sasano (笹野高史)
Keiko Horiuchi (堀内敬子)

After migrating from job to job, 38-year-old Sakura Yoruno, finally settles in as a bar hostess at a pub called "Raimu Raito" on the outskirts of town. It seems the perfect job for a woman who has witnessed and experienced just about everything in life. But her life takes another change when a regular customer compels her to take up a teaching position at an evening high school. Here, she's warned that "if even one student drops out, you're fired." But the class assigned to her is a veritable smorgasbord of troubled students. They vary in age and social background, and suffer from problems that make any one of them a potential drop out at any time. But the boundlessly cheerful Sakura is determined to succeed. "No matter what happens," she promises, "I'm not letting go of your hand." Here is an inspiration tale about a rookie teacher at a night high school with the ability to turn people's lives around.
---
여러 직업을 전전하다 변두리의 술집 라이무나이토의 마담이 된 요루노 사쿠라 (38세). 사쿠라에게 이곳은 그간의 인생경험을 충분히 발휘할 수 있는 천직이었다. 하지만 그런 그녀에게 갑작스런 전환이 찾아온다. 가게 단골손님에 의해 반 강제적으로 스카웃되어 고등학교 선생으로 취직하게 된 것이다.「한명이라도 퇴학하면 즉시 해고」라는 조건으로 담임을 맡게된 반은 하필이면 나이도 생활환경도 다른 저마다 고민을 안고 있는 학생들뿐이었다.
당장 퇴학해도 문제가 없을 듯한 아이들에게 사쿠라는「난 너희들의 손을 절대로 놓치 않을것」이라 말하며 갖가지 문제에 시시콜콜 참견하는데… 명량쾌활한 신참교사와 나이도 환경도 전혀 다른 고등학생들의 인생재생 역전스토리!
---
夜野櫻38歲。換了很多工作的她,成了夜店「來夢來人」的媽媽桑後,終於安定了。對櫻而言,經歷了無數的人生經驗後,這個工作最能發揮上天賦予她的才能。突然間,轉機的時刻到來了。夜店裡的常客地挖角她,在半推半就下當了高中的兼職老師。[只要有一個學生退學,馬上讓你走人]的殘酷條件下,她開始了教師的工作。她這班的學生,各色人馬應有盡有,個個都是有[來頭]的。
年齡,生活環境完全不同的學生們,隨時都可能被退學,她到底要怎麼干預他們的問題呢?明朗樂天的新手教師怎麼改造這群年齡環境都不同的學生們呢?