Ouran High School Host Club
桜蘭高校ホスト部   오란고교 호스트부   櫻蘭高中男公關部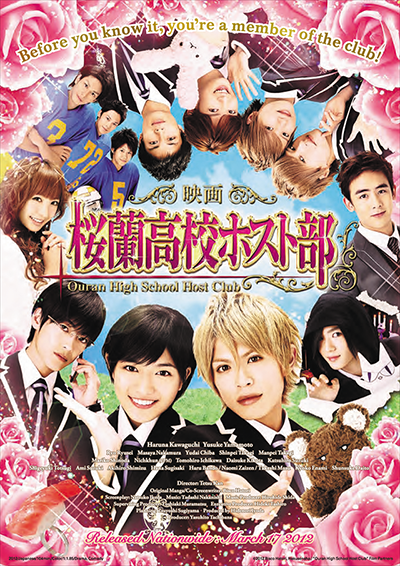 Broadcast Date
Japan Release: 2012.3.17
Episode / Duration
104 min.
Director
Scenario Writer
Cast
Haruna Kawaguchi (川口春奈)
Yusuke Yamamoto (山本裕典)
Shunsuke Daito (大東駿介)
Ryo Ryusei (竜星涼)
Masaya Nakamura (中村昌也)
Yudai Chiba (千葉雄大)
Shinpei Takagi (高木心平)
Manpei Takagi (高木万平)

Ouran Academy – Japan's most prestigious high school, attended by the the rich and famous. The school's six most handsome guys run their own extracurricular "Host Club." Each with their own unique character, they offer tender loving care to the girls of Ouran. In a bizarre twist of events, female student Haruhi ends up dressing as a boy and debuting as the club's seventh member. Before long, she captures the hearts of her fellow hosts. However, recently it's thoughts of the club's leader, Tamaki, that gives her chest pains. Is she just sick, or lovesick?
---
오란고교. 그곳은 일본유수의 부잣집아이들이 다니는 명문 고교이다. 이 학교의 호스트부는 학내굴지의 얼짱남학생 여 섯명이 각각의 캐릭터를 살려 손님을 맡아 학교 여학생들의 피로를 풀어주는 서클이다. 어떤 사건을 계기로 본의아니 게 남자로 위장하여 호스트부원으로 데뷔하게 된 하루히는 어느새 부원들의 마음을 사로잡고 가족과도 같은 정을 쌓아 간다. 하지만, 하루히는 서클부장 타마키를 생각하면 가슴 이 저려오는것을 느끼는데…. 이건 뭐지? 감기? 아니면 사 랑… ?
---
櫻蘭高中是日本少數而稀有的貴族名門學校。而學校裡的男公關部更是由全校屈指的美男子6 個人組成,以各自不同的性格和外貌用不同的手法,討好撫慰同校女生的心靈。因為一次陰錯陽差的事件讓Haruhi 以男部員的身份加入了公關部之後,不知不覺的他也融入了其中甚至更加深彼此如手足兄弟般的情感。可是,不知為何最近Haruhi 只要一想到部長環(Tamaki)就會莫名的胸口一陣絞痛。是感冒了?還是戀愛了。。。?