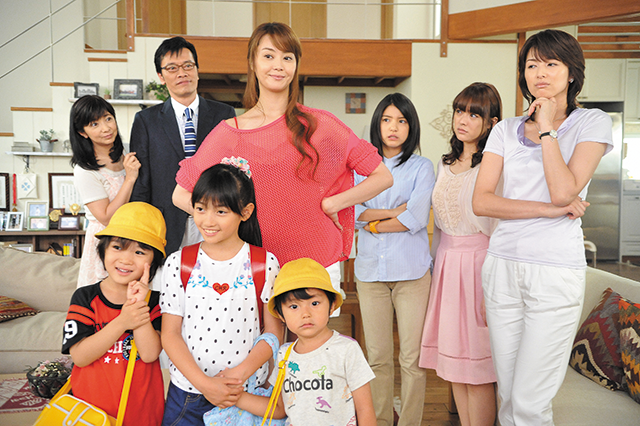 Broadcast Date
2011.7.10 - 2011.9.18
Episode / Duration
11 episodes 80 min x 1 ep / 60 min x 10 eps
Scenario Writer
Yukako Shimizu (清水友佳子)
Erika Seki (関えり香)
Yoko Izumisawa (泉澤陽子)

Cast
Alisa Mizuki (観月ありさ)
Shihori Kanjiya (貫地谷しほり)
Umika Kawashima (川島海荷)
Shigeaki Kato (加藤成亮)
Michiko Kichise (吉瀬美智子)
Kenichi Endo (遠藤憲一)
Yoshiko Miyazaki (宮崎美子)

Four grown sisters return to life under one roof in the Hanawa home, headed by their "hunk" of a father and perennially girlish mother (who adores her husband and never doubts for a moment that his feelings are mutual). Although raised under the example of a seemingly model marriage, the "four Hanawa sisters" themselves are either divorced, devoutly single, in the market for a husband or simply unlucky in love. The second eldest daughter, Takemi, is the "black sheep" of the family who returns home after multiple divorces and three kids in tow. Having lived her life as honest to her own feelings as possible, she can't help but stir trouble - leading to some hilarious predicaments - and always commands the center of attention, earning her such nicknames as "problem child", "love-starved man-killer" and "she-devil." "Marriage", however, is the constant operative word in this domestic drama of women in search of a formula to happiness.
---
하나와 집안은 인기 많은 아빠, 그리고 아빠의 사랑을 의심하지 않고 한결같이 아빠를 사 랑하는 소녀같은 엄마, 그리고 이런 거짓말 같은 철벽부부가 길러낸 "하나와가의 네자매" 가 등장한다. 딸들은 미혼, 이혼, 결혼활동, 애인없음등 정말 남자운이 없다. 차녀 타케미 는 결혼, 이혼을 반복한뒤 3명의 아이들을 데리고 친정으로 돌아온 문제아. 자신에게 너 무 정직한 나머지 언제나 주변과 어울리지 못해서 "연애가 끊이지 않는 마성의 여자" , "문 제아" , "악녀" 라고 불리는 타케미는 언제나 웃음을 머금게하는 트러블을 불러일으킨다.
결혼을 키워드로 네자매와 가족을 통해 여자의 행복을 묻는 홈&휴먼드라마!
---
首先在本劇的舞台「華和家」登場的是,"萬人迷"的老爸和自始至終對老爸死心塌地有如少女般癡情的老媽。這樣令人無法想像且人人稱羨的理想夫婦所培育的"華和家四千金"竟然是,未婚而離婚的、參加相親聯誼但始終沒有男朋友的、和男人絕緣的。其中老二的「竹美」更是最大的"問題兒"。除了反覆數次的離婚搬回了娘家之外,還有3個小孩。她強調自己只是誠實地活著,但她的行徑對於週遭來看卻顯得相當突兀。被人稱作"多情的魔女""問題兒"甚至是"惡魔"的竹美, 常常製造令人哭笑不得的麻煩和騷動!?
以「結婚」作為關鍵字,透過四千金和這個家庭描繪出「何謂幸福?」的一齣家庭倫理&人性溫暖劇!