Beyond the Boundary-I'LL BE HERE- Future
境界の彼方-I'LL BE HERE-未来編   경계의 저편 I'LL BE HERE 미래편   《境界的彼方》(I'll be here 未來編)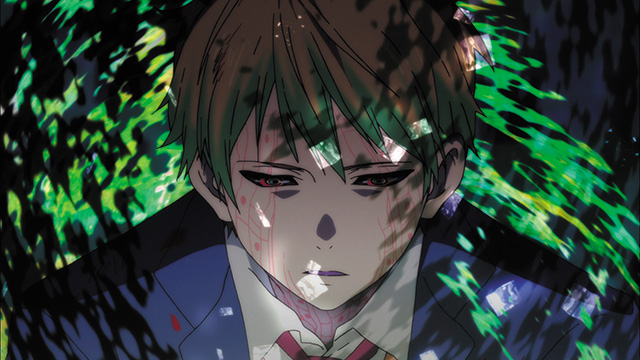 Broadcast Date
Japan Release: 2015.4.25
Episode / Duration
89 min.
Director
Scenario Writer
Cast
Risa Taneda (種田梨沙)
KENN (KENN)
Minori Chihara (茅原実里)
Tatsuhisa Suzuki (鈴木達央)
Yuri Yamaoka (山岡ゆり)
Moe Toyota (豊田萌絵)
Ayako Kawasumi (川澄綾子)
Masaya Matsukaze (松風雅也)
Akeno Watanabe (渡辺明乃)
Naomi Shindo (進藤尚美)

Akihito Kanbara has lived his life as a half youmu, being possessed by the most evil youmu, known as "Beyond the Boundary." Mirai Kuriyama is a Spirit World Warrior with the cursed blood and is the only one who can defeat Beyond the Boundary. After a fateful encounter, they start to get attracted to each other.
The battle is over, and they can go about their normal lives now… Or so they thought. With no time to rejoice after miraculously saving Mirai from Beyond the Boundary, Mirai lost all her memories. Akihito, now a high school senior, starts to avoid Mirai thinking it's for the better. Not aware of Akihito's feelings, Mirai tries to get closer to Akihito. Then, someone who knows of Mirai appears in front of the two. With Akihito's troubles in vain, Mirai once again sets forth on a battle that forces her to look within.
---
경계의 저편 I'LL BE HERE 미래편
최악의 요무「경계의 저편」을 체내에 품고 반요로 살아온 간바라 아키토. 그리고 「경계의 저편」을 유일하게 제압할 수 있는 저주의 피를 가진 이계사, 구리하라 미라이. 이둘은 운명으로 만나 점차 인연으로 이어간다. 싸움도 끝나고 이제서야 평범한 일상이 이어질 예정이었는데….
「경계의 저편」으로부터 기적적으로 미라이를 구출해 온 기쁨도 잠시뿐, 미라이의 기억이 한순간에 사라지고 말았다. 고교3학년이 된 아키토는 미라이의 행복을 위해 미라이를 피하기 시작한다. 아키토의 마음도 모른채 아키토에게 다가가는 미라이. 그런 두사람 사이에 미라이를 알고 있는 자가 나타나고, 허무한 아키토의 마음과 관계없이 미라이는 또다시 자기자신을 향해 싸움에 임한다.

---
《境界的彼方》(I'll be here 未來編)
一直以來將最兇的妖夢「境界的彼方」寄宿在體內,以半人半妖夢的身份活著的神原秋人。擁有唯一可以打倒「境界的彼方」的詛咒血脈刀的異界士-栗田未來。注定會相遇的兩個人,認識彼此後越來越相知相惜。戰爭結束,從此下定決心一起過正常日子的他們卻發生了無法預想的事情。
原本成功從「境界的彼方」奇蹟似地把未來救回來的秋人,開心的時刻並沒有維持多久。當秋人發現救回來的未來對於這段記憶失憶時,為了未來著想,升上高三的秋人決定要迴避未來。但不知情的未來卻依然想要靠近秋人。
就在此時出現一個知道秋人和未來過去的人,他讓秋人對於未來的苦心白費,也讓未來重新喚起那段回憶需要再度面對自己,必須又開始作戰。