Jojo's Bizarre Adventure: Diamond is Unbreakable
ジョジョの奇妙な冒険 ダイヤモンドは砕けない 第一章   죠죠의 기묘한 모험:다이아몬드는 부서지지 않는다   JoJo的奇妙冒険 不滅鑽石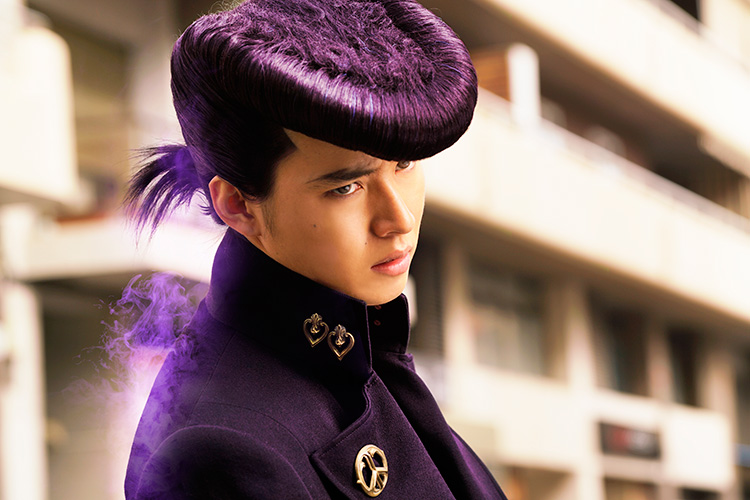 Broadcast Date
Japan Release: 2017.8.4
Episode / Duration
119 min.
Director
Cast
Kento Yamazaki (山﨑賢人)
Yusuke Iseya (伊勢谷友介)
Ryunosuke Kamiki (神木隆之介)
Nana Komatsu (小松菜奈)
Masaki Okada (岡田将生)
Mackenyu Arata (新田真剣佑)
Takayuki Yamada (山田孝之)
Jun Kunimura (國村隼)
Arisa Mizuki (観月ありさ)

There's something bizarre about this town...
Morioh, a picturesque seaside town.
In this deceptively peaceful-looking locale, strange deaths and other peculiar incidents begin occurring one after another...
Morioh is home to high school student Josuke Higashikata. Although he has the outward appearance of a delinquent, he is actually kind at heart. He possesses a special power called "Stand," and his unique ability can heal the wounds of others and fix broken objects just by touching them. When he learns that the unsettling events happening around him are the handiwork of other stand users, Josuke rises up to protect his beloved town!
---
이 마을 뭔가 이상해
아름다운 해안가의 모리오마을.
평화롭게 보이는 이 마을에서 변사사건등 차츰 기묘한 사건이 일어나기 시작한다.
이 마을에 사는 고등학생 히가시카타 죠스케. 겉보기엔 불량스럽지만 마음씨 착한 성격의 소유자. 그는 스탠드라 불리는 특수능력을 가지고 있다. 죠스케의 스탠드는 만지기만 하면 타인의 상처나 부서진 것들을 고치는 것이다. 일련의 사건이 다른 스탠드를 사용하는 자들의 소행임을 알게 된 죠스케는 사랑하는 마을을 지키기 위해 일어선다.
---
這個城市,有奇怪的地方。
美麗的海濱城市,杜王町。
在看上去和平的這個城市,橫死事件等奇怪的案件一個接一個地開始發生――。
住在這個城市的高中生、東方仗助。他的外表看起來雖然像是個小流氓,但其實是個內心和善的少年。

他擁有稱爲替身的特殊能力,仗助的替身,只要觸摸就能治好別人的傷或是修理壞掉的東西。當知道這一連事件是另外的有替身能力的人所作出的時候,仗助便爲了保護自己所愛的城市站了起來!