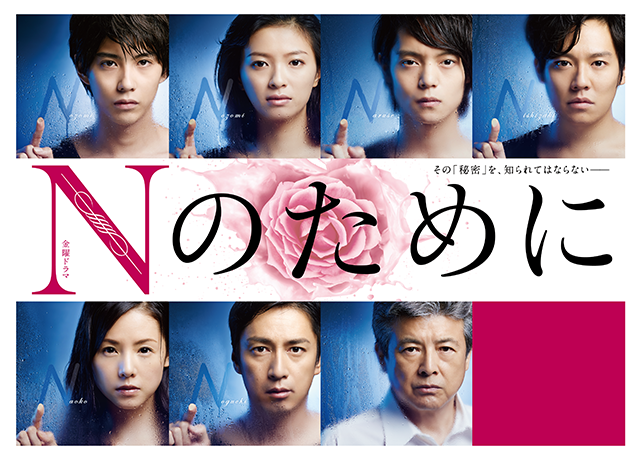 Broadcast Date
2014.10.17 - 2014.12.19
Episode / Duration
10 episodes 75 min × 1 ep / 60 min × 9 eps
Scenario Writer
Cast
Nana Eikura (榮倉奈々)
Masataka Kubota (窪田正孝)
Kento Kaku (賀来賢人)
Keisuke Koide (小出恵介)
Tomokazu Miura (三浦友和)
Yoshimi Tokui (徳井義実)
Manami Konishi (小西真奈美)

Television dramatization of bestselling author Kanae Minato's heart-wrenching, romance-thriller of the same name, a novel which earned her a best new mystery writer award in 2007. Nozomi is a female college student who together with friends, Naruse, Ando and Nishizaki, came up with a certain "scheme" that put them on the scene of a horrific family murder. Nishizaki was arrested on the spot as a suspect in the murder and sentenced to 10 years in prison by virtue of a voluntary confession. A decade later, an ex-cop named Takano begins to reinvestigate what he believes was an unsolved murder that somehow entwined 6 young adults all with the initial "N" in their names. Clues from the past and present cross as Takano tries to puzzle together the truth and find out what really happened.
---
인기 베스트셀러 작가, 미나토 카나에의 슬픈 러브 미스테리를 드라마화했다.
2007년 추리소설 신인상을 수상한 작품.
대학생인 노조미는 나루세, 안도, 니시자키와「어떤 계획」을 준비하면서 노구치부부의 살인사건 현장을 목격하게 된다. 현장에서 니시자키가 체포되고 자백에 의해 징역 10년을 구형받게 된다. 10년후, 사건의 판결에 의심을 품은 전직 경찰관 다카노는 사건의 진상을 파헤치기 시작한다. 관계자 6명의 공통이니셜「N」. N들이 어떻게 관련되고 어떤 죄를 범했는지 현재와 과거를 교차시키면서 사건의 진실을 밝혀간다.
---
人氣作家湊佳苗的暢銷作品描寫充滿純愛的推理小說終於變成眾所待望的連續劇作品。
原作是2007年的獲得小說推理新人賞的作品。
大學生的希美和她的同學,成瀬、安藤和西崎因為某個計劃而剛好相約在野口夫婦殺人事件的現場。在相約現場西崎當場被逮捕,並自供後被判刑10年。
10年後,對於這個事件抱持懷疑態度的原警察官,高野決定調查事件真相。跟這個事件有關係的6個人的共通點是他們的名字的開頭都是N。這些N是如何有著密切關係和瓜葛,犯了什麼罪行呢?這個交錯過去和現在的事件真相正在漸漸明朗中。