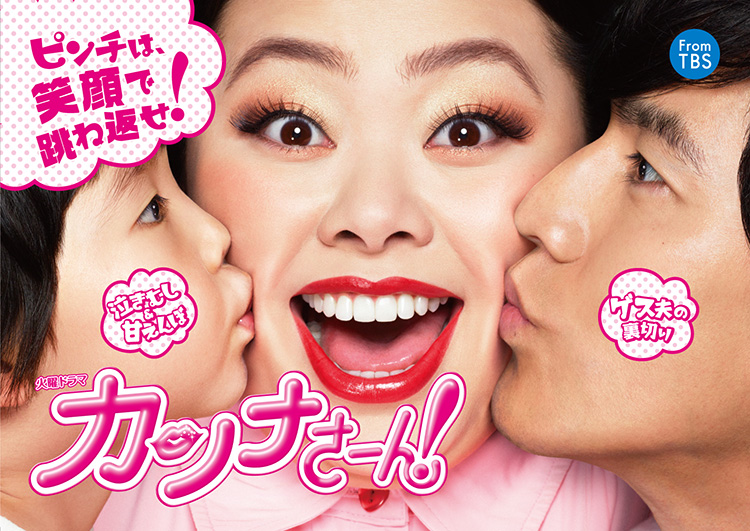 Broadcast Date
2017.7.18 - 2017.9.19
Episode / Duration
10 episodes 75 min × 1 ep / 60 min × 9 eps
Scenario Writer
Cast
Naomi Watanabe (渡辺直美)
Jun Kaname (要潤)
Sayaka Yamaguchi (山口紗弥加)
Asuka Kudo (工藤阿須加)
Reina Triendl (トリンドル玲奈)
Jiro (じろう)
Eito Kawahara (川原瑛都)
Toshiya Tohyama (遠山俊也)
Mayumi Asaka (朝加真由美)
Yuki Saito (斉藤由貴)

Kanna Suzuki is a powerhouse woman with single-minded devotion once she puts her mind to something. Working for a fashion designer, her dream is to someday design clothes that will make women everywhere amazingly attractive." But her world begins to spin out of control when she discovers that her "loving" hunk of a husband, Rei, is having an affair! Meanwhile, her unreasonable boss dumps loads of work, her husband is a mama's boy and her mother-in-law drops in unannounced to dote on her son and grandson, and all while Kanna is trying to raise a needy 4-year-old son, Reon. Pushed to a breaking point and battling the world alone, Kanna, however, isn't one to run, bend or break. Instead, she girds herself for battle, stokes her inner fire and confronts adversity head on, chasing her dream in pursuit of happiness and fulfillment for herself and her son.
---
파워풀하면서 호쾌하고 한번 마음먹으면 열정을 다하는 여자, 스즈키 칸나. 패션회사 디자이너인 그녀는「언젠가 자신이 디자인한 옷으로 세상의 여성들을 멋지게 만들어 보이겠다」는 꿈이 있다.
잘생긴 남편 레이와 외아들 레온과 함께 매일 즐겁게 살아가지만 어느날 사랑한다고 믿었던 남편의 불륜이 발각된다!!
불합리한 회사상사가 떠넘기는 대량의 일, 마마보이 아들을 과보호하는 시어머니, 울보에 어리광인 네살아들의 육아… 이밖에도 여러문제들이 외톨이가 된 칸나에게 덮쳐온다!
이윽고 이 모든것에서 벗어나고 싶은 순간도 있지만, 그러나! 칸나는 도망가지 않는다! 타협하지 않는다! 좌절하지 않는다! 사랑하는 아들을 위해 그리고 자신의 꿈을 위해 역경을 딛고 행복하게 살아가는 칸나의 뜨거운 분투기!!
---
鈴木栞納是個精力充沛、性格豪爽、一旦決定做就會勇往直前的女人。
作為一個被聘用的時裝設計師、她擁有一個夢想、就是:有一天用自己設計出來的服裝、讓世界所有的女性都變得魅力十足。
她和她的帥老公---鈴木禮及獨生子麗音、一家三口每天過著幸福愉快的生活。可是、有一天她突然發現了本來應該是很恩愛的丈夫禮、竟然在外沾花惹草!!
不通情理的上司下令要做的大量工作、戀母情結的丈夫與過度保護的婆婆的來襲、還有又愛哭又愛撒嬌的4歳幼兒的撫育…以及各種各樣的困難、都一齊向孤零零的栞納襲来!
栞納不由得有時候心會變得有些消沉…可是、她不逃避、不放棄、不灰心! 為了最愛的兒子、更為了自己的夢想~這是戰勝逆境並快樂生活的栞納的勇敢拼搏記!!