Girls for Keeps
ガール   걸 (Girl)   粉領族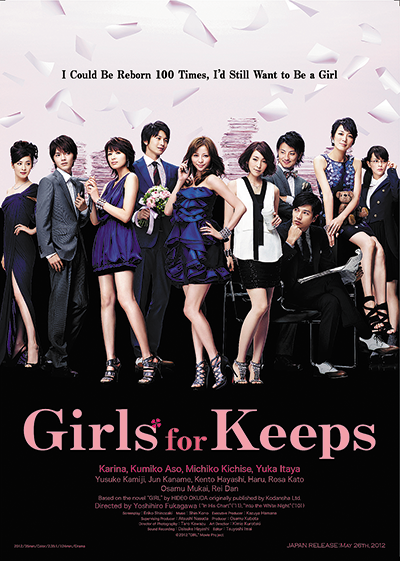 Broadcast Date
Japan Release: 2012.5.26
Episode / Duration
124 min.
Director
Scenario Writer
Cast
Karina (香里奈)
Kumiko Aso (麻生久美子)
Michiko Kichise (吉瀬美智子)
Yuka Itaya (板谷由夏)
Yusuke Kamiji (上地雄輔)
Jun Kaname (要潤)
Kento Hayashi (林遣都)
Haru (波瑠)
Rosa Kato (加藤ローサ)
Eriko Hatsune (初音映莉子)

Yukiko, Seiko, Yoko and Takako are the most improbable group of friends given the fact that they work in very different industries and live in different worlds. Yukiko is a fashion maven devoted to expressing her individuality through clothes. But she's pushing 30 now, and is beginning to acknowledge the pressure to dress appropriately for her age. Seiko has been promoted to a managerial position but finds herself having to constantly do battle with her elder male subordinates. Yoko fantasizes about marrying a gorgeously handsome company freshman 12 years her junior. Takako is a devoted single mother whose hard daily effort more than compensates for a father role.
---
유키코, 세이코, 요코, 다카코는 회사도 살아가는 방식도 전 혀 다르지만 왠지 마음이 맞는 친구다. 유키코는 멋부리기 에 목숨을 걸고 언제나 독창적인 복장을 좋아하지만, 서른 을 목전에 두고 나이와는 어울리지 않는다는 말에 초조함을 감추지 못한다. 관리직에 발탁된 세이코는 나이는 많으나 일 잘하는 부하직원의 공격에 회사에서는 언제나 전투태세 이다. 요코는 12살 어린 얼짱 신입사원과 결혼을 꿈꾸며 지 금의 자신을 애써 외면한다. 돌싱인 다카코는 아빠의 몫까 지 소화해내려 분투하지만 주위사람들과 아들마저도 오히 려 자신에게 신경쓰는 모습에 혼자만의 노력으로는 역부족 인가라는 고민을 한다.
---
由紀子(Yukiko),聖子(Seiko),容子(Yoko),和孝子(Takako)無論是她們的工作性質還是生長環境,都完全沒有交集的四個人卻是意氣相投的死黨。由紀子追求時尚,喜愛作前衛的打扮,眼看就要年近30 的她,最近被批評她的時尚已不適合實際年齡而開始感到焦躁。聖子在公司屬於管理階級,但為了不被這位精力充沛且事業心強的年長下屬攻擊,在公司她總是保持備戰狀態。容子則幻想著能和剛進公司,比自己整整小一輪的型男結婚,對於自己這樣的私念她卻一直矢口否認。而單親媽媽的孝子總是努力希望自己可以身兼父職,但反而讓周圍的朋友甚至兒子替她擔憂,她開始苦惱質疑自己的努力。