Her Granddaughter
娚の一生   남자의 일생   她的孫女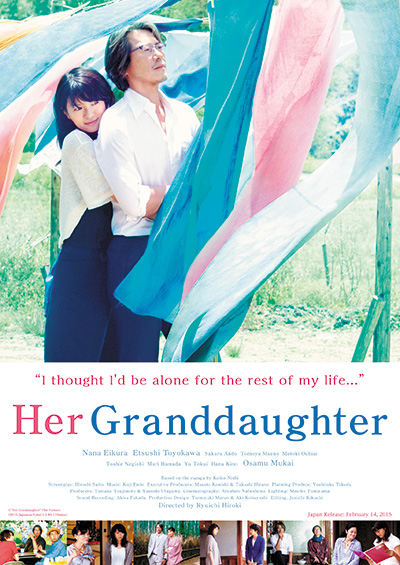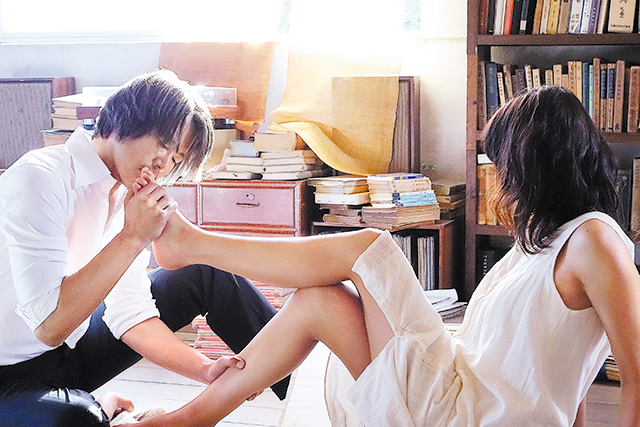 Broadcast Date
Japan Release: 2015.2.14
Episode / Duration
119 min.
Director
Scenario Writer
Cast
Nana Eikura (榮倉奈々)
Etsushi Toyokawa (豊川悦司)
Osamu Mukai (向井理)
Sakura Ando (安藤サクラ)
Tomoya Maeno (前野朋哉)
Motoki Ochiai (落合モトキ)
Toshie Negishi (根岸季衣)
Mari Hamada (濱田マリ)
Yu Tokui (徳井優)
Hana Kino (木野花)

Tired of a busy Tokyo career and painful relationships, Tsugumi quits her job and flees to the home of her grandmother in the countryside to restart her life. When the grandmother dies, Tsugumi encounters a college professor named Kaieda, who had borne a long admiration for the grandmother. Kaieda oddly finds himself irrepressibly drawn to Tsugumi and finds his way into moving in with her. Initially, the discrepancy in their ages is discomfiting to Tsugumi, but she gradually finds herself opening up to him. A young woman convinced she could never be happy. And a man in his 50s who had long abandoned thoughts of love or settling down. Here is a mature love story about how two very mismatched lives can come face to face with each other, bringing lessons about life and love.
---
도쿄에서 바쁘게 캐리어를 쌓으며 힘든 연애를 하고 있던 쓰구미는 회사를 그만두고 할머니가 살고 있는 시골집에서 살기 시작한다. 갑작스런 할머니의 죽음을 계기로 평소 할머니를 연모하던 대학교수 가이에다를 만난다. 쓰구미에게 호의를 가진 가이에다는 반강제로 쓰구미의 집에 얹혀살게 된다. 처음엔 나이차이가 나는 남성의 구혼에 당황해하던 쓰구미였지만 차츰 그에게 마음을 열게 된다. 자신은 행복해지지 못할것이라 생각했던 여성과 사랑을 거부하며 안정된 가정을 꾸리지 못할 것이라 믿었던 50대 남자. 두사람의 갑작스런 생활과 차츰 사랑으로 마주하며 변해가는 모습을 그린 성인러브스토리.
---
在東京埋頭苦幹卻沒有什麼成就且又受到戀愛創傷的女生——TSUGUMI索性辭了工作搬回鄉下與祖母住在同個屋簷下。祖母無徵兆地去世導致她遇見了自稱非常景仰祖母的大學教授海江田。不知為何對於TSUGUMI開始持有好感的海江田就這樣半強硬地住進了TSUGUMI家。
面對年長的男性求愛感到有些徬徨的TSUGUMI慢慢地敞開了胸膛接受。一直覺得自己一輩子再也不可能有幸福,拒絕女性和戀愛,已放棄能與任何人共組家庭希望的五十歲中年男性。兩個原本沒交集的人隨著一起生活漸漸體會愛的真諦,一部成熟穩重的大人戀愛物語。