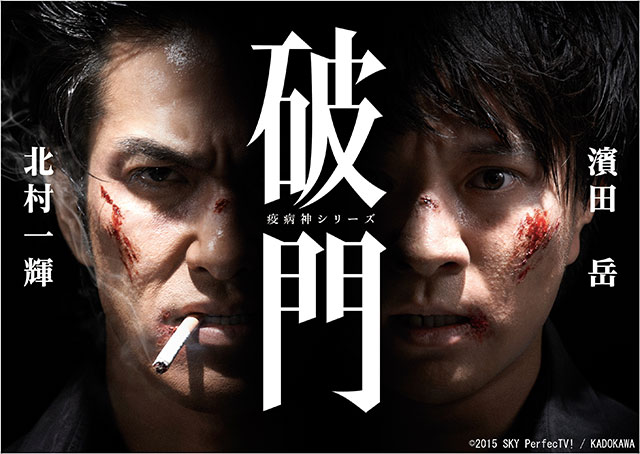 Episode / Duration
8 episodes 60 min × 8 eps
Director
Hisashi Kimura (木村ひさし)
Junichi Mori (森淳一)
Hirokazu Fujisawa (藤澤浩和)

Scenario Writer
Cast
Kazuki Kitamura (北村一輝)
Gaku Hamada (濱田岳)
Rio Yamashita (山下リオ)
Tetsuya Makita (牧田哲也)
Hidekazu Akai (赤井英和)
Toshiya Nagasawa (永澤俊矢)
Houka Kinoshita (木下ほうか)
Shingo Tsurumi (鶴見辰吾)
Kyosuke Yabe (やべきょうすけ)
Atomu Shukugawa (夙川アトム)

Kazuki Kitamura and Gaku Hamada co-star in a television dramatization of two seminal works from the hugely-popular, hard-boiled series, "Yakubyogami" by crime thriller writer, Hiroyuki Kurokawa: "Hamon" (Expulsion), based on the novel of the same name that won the 151st Naoki Prize, and the series' debut novel, "Yakubyogami" (Hoodoo).
Set in Osaka, high-spirited yakuza Kuwabara and buttoned-down construction consultant Ninomiya form an odd couple as they rail against the city's "bad elements" drawn to money like sharks to the scent of blood. Laced with the characteristic witty banter of the Osaka dialect here is a gritty, hard-boiled drama that explodes with violent thrills and impact that defies all expectations.
---
절찬의 소리가 끊이지 않는 구로가와 히로유키의 대인기 하드보일 "역병신 시리즈" 의최고도달점이 된 제151회 나오키상 수상작『파문』과 그 시리즈 첫번째 작품인『역병신』을 기타무라 카즈키와 하마다 가쿠의 더블주연으로 드라마화했다!!
기세등등한 야쿠자 구와바라와 건설컨설턴트인 니노미야. 오사카를 무대로 미스테리사상 최악의 "역병신 콤비" 가 돈냄새에 몰려든 악당들을 상대로 종횡무진 날뛴다.예상을 뒤없는 스토리, 오사카 사투리의 경묘한 대화, 그리고 작열하는 액션.
스릴과 충격이 질주하는 본격하드보일 드라마의 탄생이다!!
---
讚賞不斷,擁有超高人氣小說家的黒川博行所寫的超人氣硬派小說『瘟神』系列到目前為止的最高傑作。今年第151屆的直木賞得獎作品『破門』(角川書店)和同系列的第一部作品『瘟神』( 角川文庫・新潮文庫)即將電視劇化,由北村一輝,濱田岳雙人領銜主演!!
強勢無比的黑社會混混桑原和擔任建設公司顧問的二宮,將是推理史上最凶神惡煞的瘟神組合。以大阪為舞台,讓觀眾一起觀賞他們是怎麼推翻黑金惡黨!出乎預料的劇情,關西腔的輕快幽默,和轟轟烈烈的暴走畫面,這部連續劇將帶給您前所未有的懸疑和衝擊,一部正統的硬派電視劇,就此誕生。