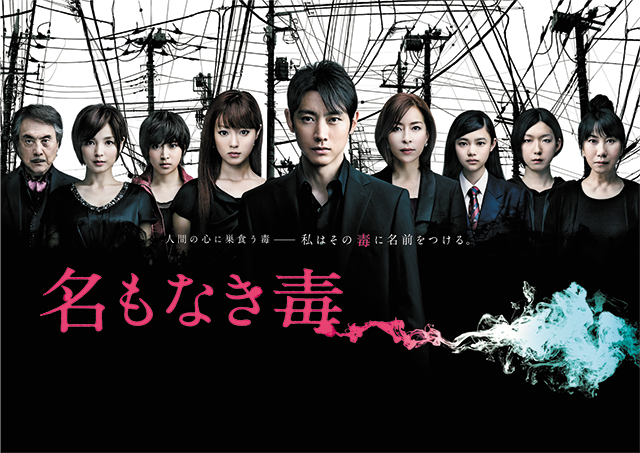 Broadcast Date
2013.7.8 - 2013.9.16
Episode / Duration
11 episodes 60 min x 11 eps
Scenario Writer
Cast
Kotaro Koizumi (小泉孝太郎)
Kyoko Fukada (深田恭子)
Miki Maya (真矢みき)
Ryoko Kuninaka (国仲涼子)
Nao Minamisawa (南沢奈央)
Hana Sugisaki (杉咲花)
Noriko Eguchi (江口のりこ)
Murotsuyoshi (ムロツヨシ)
Mitsuru Hirata (平田満)
Ren Osugi (大杉漣)

A dramatization of a work by Japan's undisputed queen of mystery and perenially popular author, Miyuki Miyabe. Saburo Sugimura is employed in the public relations sections of huge conglomerate, Imada Corporation. when he receives an odd request from his father-in-law, Yoshichika Imada, the company chairman. The favor has something to do with looking into the tragic death of the chairman's personal driver, Nobuo Kajita, who had been an enthusiastic supporter of Sugimura's marriage to the chairman's daughter. While Sugimura hopes the death was nothing more than an accident, new facts come to light that point instead to foul play. All people have "poison" in their hearts in varying quantities, and Sugimura finds that Kajita's death may have been the result of the daily gradual spread of secretly-harbored poison of the heart. Here then ensues a genuine psycho thriller that brings the varied drama of the human condition into bold relief.
---
일본에서 가장 유명한 소설가, 미스테리의 여왕 미야베 미유키의 명작을 드라마화했다.
이마다 콘체른 홍보실에 근무하는 스기무라 사부로는 장인인 회장 이마다 요시치카에게 어떤 의뢰를 받는다. 바로 이마다회장의 운전을 담당하던 가지타 노부오의 죽음에 관한 것이었다. 사부로는 예전 자신과 아내의 결혼을 진심으로 축하해주던 운전사의 죽음이 사고이길 바라며 조사를 시작하지만 그의 바램과는 반대로 새로운 사실이 밝혀진다. 인간 그 누구나가 조금이나마 가지고 있는 마음의 독. 일상에 숨겨진 독과 독의 연쇄가 낳은 사건을 스기우라 사부로가 파헤치며 그 속에서 다양한 인간드라마가 그려져가는 본격 미스테리 드라마.
---
現今日本最有名小說家之一,推理小說的女王「宮部MIYUKI」的名作改編成戲劇的作品。
在今多財團的公關部工作的「杉村三郎」有天忽然被是義父兼公司董事長「今多嘉親」受托去調查有關因事故而過世的董事長前司機「梶田信夫」。衫村心底祈禱著以前如此真心祝福給自己和他的妻子的善良司機的死只是純粹的意外。但衫村越深入調查越發現挖掘的事實並不如自己期望。在這世上每個人心裡或多或少心裡都有"毒"。衫村在越來越發現潛在日常生活的"毒"和,"毒"的連鎖反應所產生的事件真相中,連續劇為您揭開人心和人性的神秘面紗。