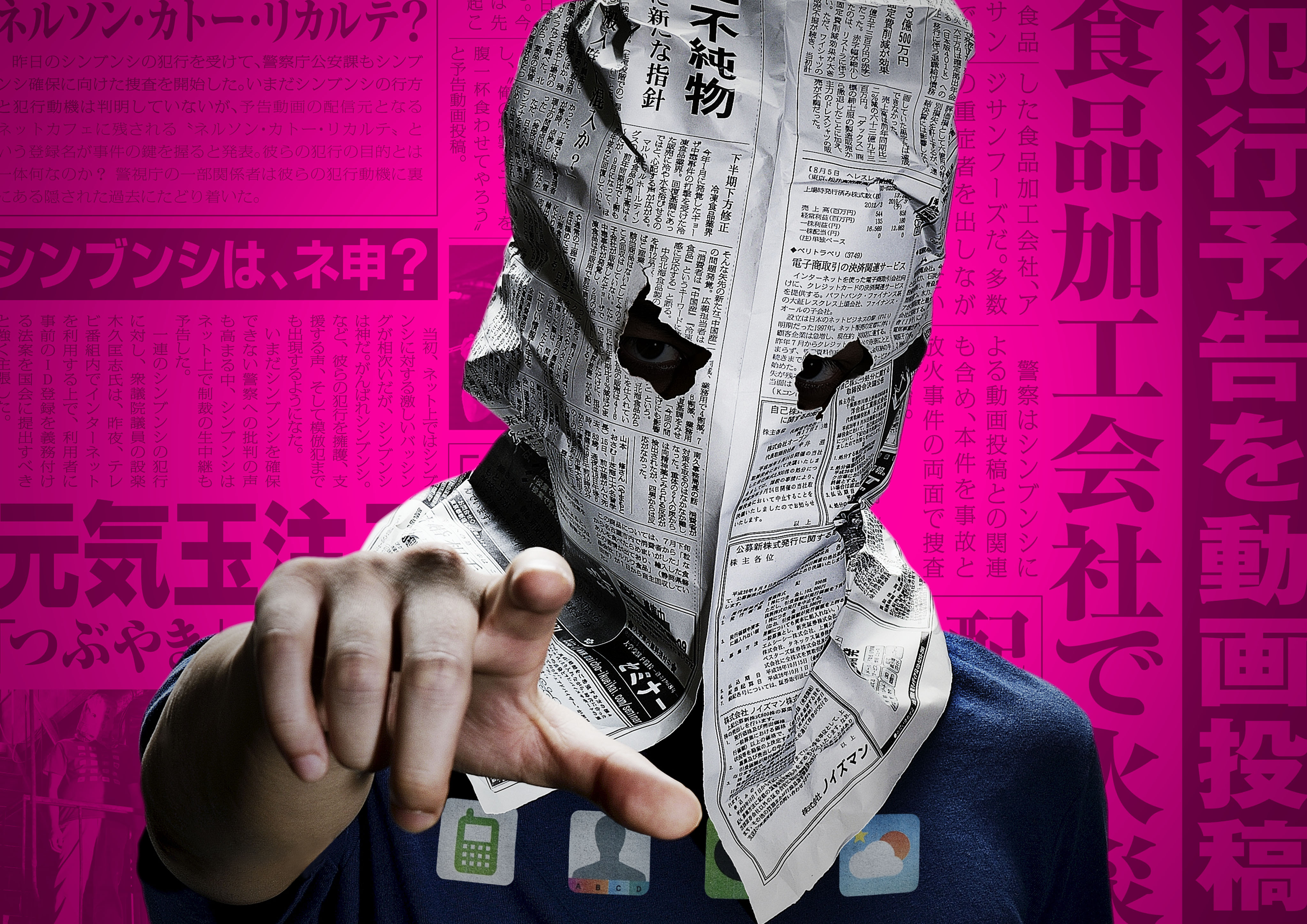 Broadcast Date
Japan Release: 2015.6.6
Episode / Duration
119 min.
Director
Scenario Writer
Cast
Toma Ikuta (生田斗真)
Erika Toda (戸田恵梨香)
Ryohei Suzuki (鈴木亮平)
Gaku Hamada (濱田岳)
Yoshiyoshi Arakawa (荒川良々)
Kei Tanaka (田中圭)
Takayuki Takuma (宅間孝行)
Masataka Kubota (窪田正孝)
Nana Komatsu (小松菜奈)
Kenichi Takito (滝藤賢一)

"Let me tell you what I will do tomorrow," announces a man wearing a newspaper hat and posting a bizarre clip from an Internet cafe.
Meanwhile, at the cyber crime task force of the Metropolitan Police, it is the job of an elite female investigator, Erika Yoshino, to crack down on irresponsible acts committed online.
One day, her virtual dragnet snares an unsettling video. It is a man railing against an incident of food poisoning by a food company: "Those incapable of handling food will be thoroughly cooked themselves!" Moments later, a food factory is set on fire.
One after another, the newspaper man vigilante together with his cohorts, proceed to serve up their own brand of vigilante justice on the world. But in reality, they are embittered society dropouts who had degenerated to living in close quarters and doing hard labor.
The prophetic crimes eventually escalate to an alarming level with police fearing acts of organized terror. However, Yoshino begins to suspect that these are neither acts of terrorism nor crimes of pleasure but instead driven by a completely different purpose…
---
티셔츠차림에 신문지로 만든 두건을 쓴 사나이가 인터넷카페에서 기묘한 동영상을 투고한다.「내일의 예고를 알려주겠다」
경시청 사이버범죄대책과. 엘리트 여성수사관인 요시노 에리카는 무책임적으로 발생하는 사이버범죄를 수없이 검거해 왔다. 어느날, 요시노의 수사망에 기묘한 동영상이 포착된다. 집단식중독을 일이킨 무책임한 식품가공업자에게 「식품의 취급방법도 모르는 놈들을 불로 제대로 익혀주겠다」라는 예고였다. 얼마후, 업자의 공장에 방화사건이 일어나는데…. 이 수수께끼의 예고범, 일명 신문지는 여러 동료들과 함께 인터넷사회에서 화제가 되는 이들에게 제재를 예고하고 점차 실행으로 옮겨간다. 점점 확대되어가는 예고범행. 하지만 요시노는 일련의 범행뒤에 무언가 전혀 다른 목적이 있을 것이라며 의심하기 시작한다.
---
穿著T恤,頭包著報紙做的頭巾的男人從女僕咖啡走出來的影片忽然被上傳,上傳者還說了一句匪夷所思的話"讓我來告訴你明天的預告"。
警視廳網路犯罪對策課裡的一名精英女搜查官-吉野絵里香專門取締無責任網路犯罪。
某日,吉野絵里香的搜查網發現了一個奇怪的影片。這個影片是針對引起集體食物中毒卻不負責任的業者所做的預告片。裡面的預告訊息是"連食物都不知道怎麼處理的這些人,真該好好地用火料理"。預告後,業者的工廠便馬上傳出遭到放火的消息。
這個謎樣的預告者,通稱"報紙男"的他其實有許多同伴。他們一一預告即將要如何制裁在網路社會上被高度討論的人物並在預告後實際採取預告的行動。在預告行為越演越烈的的情況下,吉野卻開始懷疑並探討犯人背後真正的動機並展開調查。