The Lightning Tree
雷桜   라이오우   雷櫻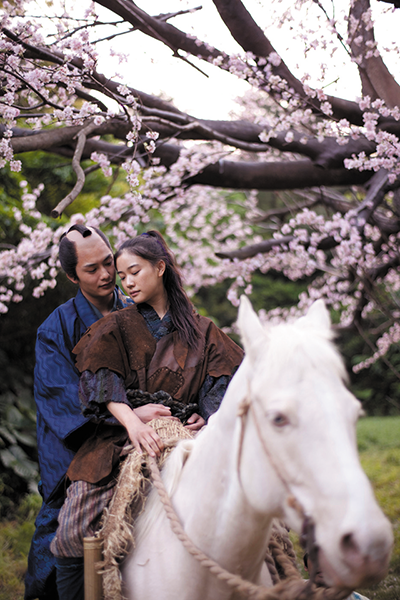 Broadcast Date
Japan Release:2010.10.22
Episode / Duration
133 min.
Scenario Writer
Sachiko Tanaka (田中幸子)
Masato Kato (加藤正人)

Cast
Masaki Okada (岡田将生)
Yu Aoi (蒼井優)
Keisuke Koide (小出恵介)
Akira Emoto (柄本明)
Saburo Tokito (時任三郎)
Yoshiko Miyazaki (宮崎美子)

The Edo Period, the world of the samurai. The youth Narimichi, the son of a Shogun, who has thus always lived a very restricted life, and the wild girl Yu, spirited away from her mountain village as a baby and raised living free in the mountains. These two, whose circumstances are such that they should never meet, come together before the miraculous 'lightning tree', and embark upon a doomed love affair. Knowing they will never be together, they seek all the more to go deep into each other's hearts. Since neither has ever been in love before, their encounter with it brings spiritual growth. For those of the modern age, far more free than that in which Narimichi and Yu lived, the film will express the value and wonder of love from the heart, without fear of being hurt. This is the story of a miracle of love, between two people who should never have met.
---
에도시대, 무사의 세계. 장군의 혈통을 이어받아 행동을 구속받는 세계에서 살아온 청년・나리 미치. 어릴적 누군가에 의해 유괴되어 마을에서 떨어진 산속에서 자유롭게 살아 온 야성적인 여성・유. 결코 만날 일이 없었던 두사람이 기묘한 나무「라이오우」앞에서 만나 운명적인 사 랑에 빠진다. 이루어지지 않는 사랑임을 알면서도 서로에게 깊이 빠져드는 나리미치와 유. 두 사람은 처음으로 타인을 사랑하고 사랑을 하면서 성장한다. 나리미치와 유가 살았던 시대보다 자유로운 현시대를 살아가는 사람들에게 상처받는 것을 두려워하지 않고 진심으로 사랑하는 것, 사랑의 소중함과 아름다움을 표현했다. 만날 일이 없었던 남녀의 기적적인 사랑이야기.
---
江戶時代。這是武士的世界。出身將軍世家,活在傳統身分階級社會裡的青年齊道和自幼就被人誘拐生活在人煙稀少的深山中、悠然自在帶有野性的女子遊。絕對不可能交集也有著不同境遇的兩個人,在一柱奇妙的樹-「雷櫻」前相遇,並且墜入了命運之戀。雖然心知這是一段不會有結果的愛情,兩人還是互相尋求彼此的真心。對於他們來說,都是第一次的愛情、第一次的相愛,兩人相知相惜。齊道和遊似乎都忘了自己生活的年代,追求著現代式的自由。描寫兩人不顧一切代價, 全心全意相愛的勇氣和尊嚴。本劇闡述不可能相遇的男女,一段奇蹟式的愛情故事。