Flying Colors: How a Teen Girl Went from Academic Absurdity to an Elite University in One Amazing Year
ビリギャル~学年ビリのギャルが1年で偏差値を40上げて慶應大学に現役合格した話   비리갸루, 학년꼴치인 갸루가 1년만에 편사치를 40올리고 게이오대학에 현역합격한 이야기   後段班辣妹應屆考上第一志願慶應大學的故事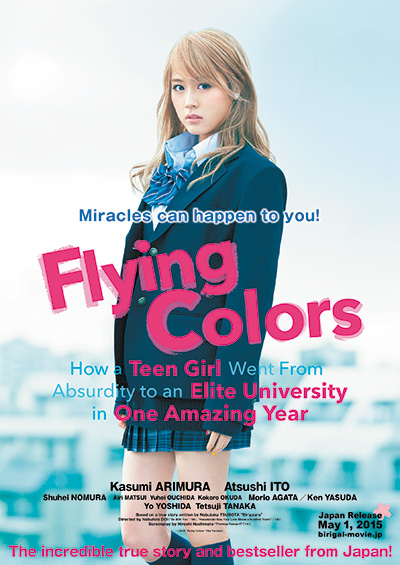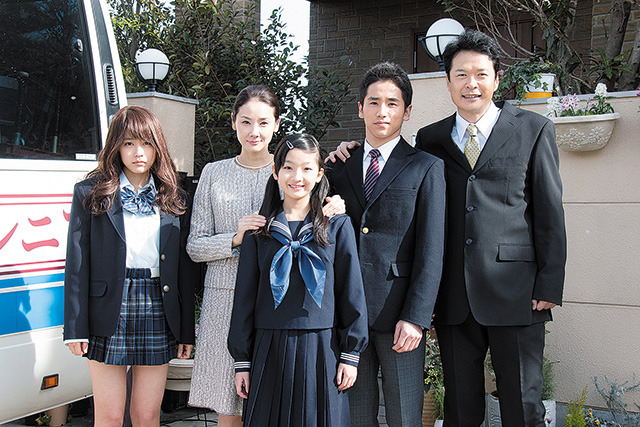 Broadcast Date
Japan Release: 2015.5.1
Episode / Duration
117 min.
Director
Scenario Writer
Cast
Kasumi Arimura (有村架純)
Atsushi Ito (伊藤淳史)
Shuhei Nomura (野村周平)
Morio Agata (あがた森魚)
Ken Yasuda (安田顕)
Yo Yoshida (吉田羊)
Tetsushi Tanaka (田中哲司)
Airi Matsui (松井愛莉)
Honami Kurashita (蔵下穂波)
Nanami Abe (阿部菜渚美)

Dyed-blonde student failure Sayaka mistakes a historical figure for a schoolyard insult, doesn't know north from south, or even that the earth is round. In her second year of high school, her academic ability is equivalent to that of a fourth-year elementary student. Then a meeting with a certain teacher, Tsubota leads to her taking on the seemingly impossible goal of gaining entrance to prestigious Keio University.
Although she once dabbled in delinquency, Sayaka begins to concentrate single-mindedly on her studies, which changes the people around her, including her family. All she needed was a teacher who she could trust wholeheartedly, and his unique approach to education. Sayaka and her mentor take on a challenge that seems utterly impossible, supported by her friends and family.
---
누구나가 아는 한자를 엉뚱하게 읽는다. 동서남북도 모르고 지구가 둥글다는 것도 모르는 학년꼴찌인 금발머리의 갸루 사야카. 고교2학년이지만 그녀의 학력은 초등4학년 수준. 그러나, 사야카는 어느 교사와의 만남으로「게이오대학 합격」이라는 무모한 목표에 도전한다.
한때는 자포자기하지만 마음을 다잡고 공부에 임하는 사야카의 모습에 주위와 가족도 점점 변해간다. 거기에는 진심으로 신뢰하는 교사와의 만남, 그리고 독특한 지도법이 있었다. 절대의 무모함에 도전한 어느 여학생과 교사, 그리고 이들을 지켜보는 친구와 가족. 엄청난 감동의 눈물과 웃음, 기적의 실화이다.
---
將聖德太子念成聖德胎勾,搞不清楚東南西北,也不知道地球是不是圓的超級沒常識又沒知識,學年成績最後一名的金髮不良少女-紗耶香。在高中二年級的測驗結果只有小學四年級程度的她,因為一位老師鼓勵她朝考上慶應大學為目標而徹底地改變了她的人生。曾經走偏的她,認真專心地為了考上大學而讀書的樣子開始改變了周遭,也改變了家人的氛圍。而這些,都是因為有可以打從心底信任的老師在身旁用獨特的教學方法教導她。一個挑戰"絕對不可能"的她和一個帶領她的老師還有身邊支持的朋友及家人。這是一部聚集所有校園學子能體會的笑與眼淚,結集感動的一部真人真事改編的電影,一定也能夠帶給您奇蹟的希望。